Jill Petty, South Side Weekly's board chair, met virtually with Bruce Sagan, outgoing Hyde Park Herald owner, to reflect on his 70 plus years in the newspaper publishing industry. They discussed the Herald's origins; Hyde Park's uniqueness; changes within the industry; and the rewards and challenges of a long career in journalism.The transcript below has been edited for length and clarity.
Jill Petty: I was able to be in the Herald/Weekly office on July 1, the first day the Herald had new ownership since July, 1953 – when you became owner and publisher, Bruce. 
While reviewing old issues of the Herald, I spent time with Jason Schumer, Managing Director, Tony Zralka, Production Manager, and Hannah Faris, Herald's Editor-in-Chief. And I felt we should have had some champagne, or some fancy sparkling drinks! So we could toast each other, and you. Because you held it down for a very long time, sir.
Bruce Sagan: I've known many fellow publishers in this business. Especially because I was lucky to do this work during a time when community newspapers were growing like crazy, all over the country. I have known people who spent their careers in it. But by accident of my DNA, I'm still here! And so, you know, I've managed a set of years. It's probably very, very unusual.
Jill Petty: Can you speak to some of the most important trends and patterns that you were able to witness, and also participate in, over the last 70 years? For instance, you referenced a rise in community newspapers during your career – can you speak more about the conditions that allowed this to happen? 
Bruce Sagan: Remember that we purchased the Herald right after the Second World War. This was a period of growth for urban centers – our big cities – and for the suburbs. In fact, there was a national effort to build housing for all returning soldiers, and vast suburbs were built. If we look back, local newspapers were started in almost each one of those places. We finally wound up calling these new newspapers "the community press." But initially it was very heavily balanced in the suburban market, because that's where the growth was going on. 
But in some ways, Chicago was special. Because obviously, this trend took hold earlier here. There were a number of community newspapers here, even before the war. And the Hyde Park Herald started in 1882 – the oldest community paper in the city, and now one of the oldest in the country.
Jill Petty: Why did the Herald initially take hold in Hyde Park?
Bruce Sagan: By the late 1800s, Hyde Park was like a rich suburban community, where wealthy people owned fancy second homes. For example, if you go a bit north of 51st Street into South Kenwood – many of those grand homes were built in the 1890s. And by then, Hyde Park was becoming a place for people to own fancyfirsthomes. 
As the area continued to grow, people wanted to know what was going on in their community. 
When the Herald started in 1882, Hyde Park was like a village, and separate from the city. And Hyde Park Township, if you want to call it that, ran from Pershing Road – then 39th street – to the north, State Street on the west side, and 138th Street and the Calumet River on the south end. Really the entire South Side.
Jill Petty: Indeed. I didn't know how large Hyde Park had been until I read earlier issues of the Herald! And I recall reading about "the annexation issue" in some of the older papers at the office – even recent special issues of the Herald referenced what a divisive issue it had been. 
Bruce Sagan: It was a gigantic territory – sort of like Chicago's Brooklyn. And it grew and grew. So in a sense, we had the same phenomenon in the 1880s that we just talked about in the 1940s and 1950s, after the war. Hyde Park was like a suburb, and residents wanted a dedicated source for information about the community. 
Here's a great example. The earliest physical copy of the Herald we have is Volume 1, Number 8 – dated April 29, 1882. The entire front page is devoted to the school budget for the township of Hyde Park. I'm not talking about the Chicago Public School board – Hyde Park ran their own schools, had their own superintendent. 
So, it's not surprising many Hyde Parkers were against joining the city. To some extent, this  broke down along class lines. The guys working the mills out by 100th street, and others working in factories throughout this large neighborhood – they wanted better services, and there were more numbers supporting annexation in 1889.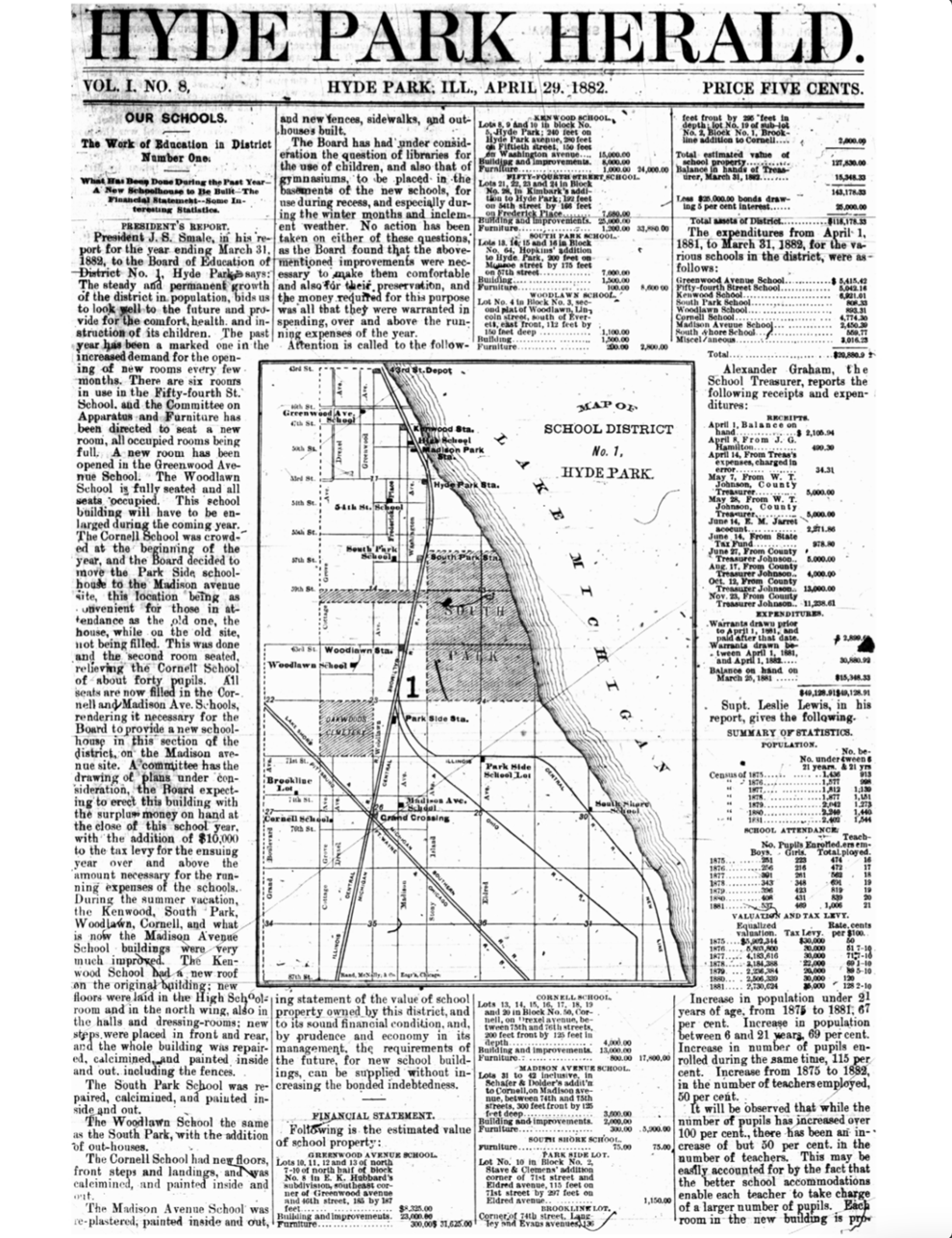 Jill Petty: Bruce, it's so interesting to me that some of these tensions, some of these competing agendas – you could say they're in the DNA of the paper. And some might say they've continued to play out over the years!
Bruce Sagan: Yes, indeed. And the founding of the Herald is connected directly to the growth of a major American city – that's fascinating by itself. But when we took over the paper, at the end of the Second World War, it was a new moment  – cities had gotten old, and urban planning was emerging. Not just here – all over the world, because of the war. There were enough bombings in Europe to have to replan the world. They were doing it, and it was happening in the US too. All of these issues were alive and present in Chicago, and in Hyde Park.
But Hyde Park – because of its geographical location and demographics – came head to head with race in very different ways than other cities, or communities in Chicago. What people wanted to do here – to create an interracial community – was just unthinkable then. It was far out, and not expected. 
It's hard for some kids and young people to understand, but we're talking about a time when discrimination was legal, sanctioned, and prevalent. And the assumption was that segregation was the way forward. Drinking fountains were still separate in the south. While the Supreme Court struck down restrictive housing covenants in 1948, redlining and blockbusting continued throughout the city. And in the 1950s, the Hyde Park Herald served a community trying to deal with those complicated problems.
Jill Petty: Can you speak a bit more about how restrictive covenants worked? And how they shaped Hyde Park?
Bruce Sagan: Restrictive covenants were agreements between property owners stating that they, individually, would not sell their house to specific groups of people. Entire communities would agree and proceed not to sell to Black people. And these agreements were sponsored and endorsed by real estate people, and by dominant neighborhood institutions – like the University of Chicago.
In effect, these covenants created territories where Black people could not live. In Chicago, the Black Belt – between 12th and 79th streets, and Wentworth and Cottage Grove – had been formed because of decades and decades of discrimination and racism. In the period we're talking about, Cottage Grove was the line between the university neighborhood – Hyde Park – and the poor and poorly-resourced neighborhoods where Black people were forced to live. Bridgeport was on the other side of that line, to the west, and covenants operated in the same way there. 
When I bought my home in Hyde Park, my deed said I could not sell it to African Americans – to be precise, it said I could not sell to Negroes. Because of the Supreme Court decision in 1948, it was not enforceable, but it had been enforced for 100 years. And as we've discussed, other discriminatory practices were continuing. So the Chicago Title Company decided to keep the language in deeds and titles. Why? "Because some day the court may say something different. So we're not taking it out." 
Jill Petty: What role did the Herald seek to play? How did you see these issues then?
Bruce Sagan: Chicago was very segregated, a very constricted place. Hyde Park was part of that problem. And the university was an active participant in maintaining the status quo, writing letters supporting the use of covenants, for instance. Robert Maynard Hutchins, president of the university for many years, was very active on the international scene after the end of the war; he promoted the United Nations, and the idea of a world without discrimination. Yet the University's real estate office was still signing restrictive covenants in 1945. 
By the time I became a publisher, at the grand old age of 24, they had been declared illegal. And the people trying to organize the community were already in action, including the Hyde Park Kenwood Community Conference – a group of local, liberal activists  – and the Southeast Chicago Commission, founded by the University. 
In Hyde Park, I was in the middle of crises where people wanted to know what was going on in their community in the worst ways. Even though a lot of this was getting attention from downtown and from city wide media, they could never provide the kind of coverage we provided. So from a journalist's point of view, I had walked into heaven. And for the next 20 years or so, we went through the complicated urban renewal process, which is still playing itself out. 
Jill Petty: Jumping ahead with you, what were the next 20 years like for the Herald?
Bruce Sagan: By 1963, the University had allowed a Black professor into housing, just east of the university. They had urban renewal plans on the books. And they finally got around to saying we're going to have an interracial community, but they used class as the mechanism to try to control the circumstance. 
Jill Petty: This reminds me of the story about Elaine May and Mike Nichols.
Bruce Sagan: That's a good story! May and Nichols went to U of C, became part of the group that founded Second City, and then moved on to New York and Broadway.
Some time in the 1950s or 1960s, the Hyde Park/Kenwood Community Conference held a fundraiser in an old movie theater in Hyde Park, which used to be on 51st Street. It was a big movie house, built earlier in the century,  that held thousands. Mike and Elaine came back, and did a little bit in the show. One of their lines was "Hyde Park! We're so glad to be back. Black and white, shoulder to shoulder, against the lower classes."
But here's what's important, Hyde Park worked as a place where white people would live. There it is, okay – saying that it might offend some people, especially younger people. But in 1953, so many white people were terrified about Black people moving into the community. Only a few people, these people in the conference, for instance, some religious leadership and others – were openly pushing back, for an integration. And on the other side, there was the university. Do you know the university considered moving?
Jill Petty: I did not, but I am not surprised, When?
Bruce Sagan: During the period around the Second World War, there was a time when the university considered moving to the suburbs. 
Jill Petty: I grew up in Hyde Park, in the 1970s and 1980s. When we were kids, university police would tell my sisters and I to leave "The C Shop"  – a little cafe on campus, in the Reynolds Club – and they would follow us around campus. The irony is my sisters were usually hanging out at U of C after Chicago Children's Choir practices – another Hyde Park-based institution that championed integration and celebrated interracial harmony.
Bruce Sagan: Stop and frisk. What you were dealing with was a form of stop and frisk. 
Jill Petty: Absolutely. It was a form of stop and frisk – we were just walking to get food on campus, or sitting in the cafe eating. Experiences like this showed us, at fairly young ages, that Hyde Park's relationship with "integration" and "interracial harmony" is quite complicated.
Bruce Sagan: It is very complicated. Hyde Park is heavily an integrated community because of its private school system, this is an example. Middle class people – white and Black – can send their kids to private schools here. We were very involved in the establishment of one private school, Ancona, in the neighborhood. We wanted it to be integrated, and we set up scholarships and support. We did a lot to get that school up and running, and to make it welcoming to everyone in the community but it was not a public school.
Jill Petty: Since we're talking about education and earlier years, what were you doing before you bought the Herald in 1953?
Bruce Sagan: Well in 1951, I was a copy boy for International News Service in Chicago. Do you know what a copy boy did? 
Jill Petty: I think copy boys literally ran marked-up copy between the reporting and editing desks – they made the whole process work.
Bruce Sagan: They did all of this, and they were also just plain old gophers – they got coffee, they ran all kinds of errands. And the whole process was entirely different. Carbon paper – people may not have even heard of it. But each story had a book – each story would have several copies. We'd take a very thin piece of vellum, put a piece of carbon paper behind that, and then another piece behind that. After the reporter would type up his story, he'd have seven or eight copies, to share to the proofreader, the editor, the fact checker, and so on. So the copy boy made up these books and circulated them, at least at the news service where I worked. Now all you do is flip on the screen. But in those days, someone had to physically move the material.
And I was very lucky. I got some funny assignments at the International News Service. I had to craft one-sentence stories about minor league games in Indiana from the score alone. Without seeing them. I came up with so many synonyms for winning, and for losing. 
I was also lucky enough to have a general manager who understood how journalists get made. He watched what I was doing. And the manager said, "You gotta go to work for the Chicago City News bureau." I said, "Yeah, what's that?"
City News Bureau was a news gathering organization owned by all of the daily newspapers in Chicago. They all owned it collectively. And this organization hired us kids cheap, and assigned us to coverages – beats – around the city. In effect, we served as backup to their reporters' stories.  I had been to college, but I didn't get a degree – I quit before I finished. And there were no journalism schools in the world back then – you didn't get degrees in journalism. That didn't exist. You just had to find a way to do it. And so here was this thing, the City News Bureau. 
Jill Petty: Are you aware of this kind of cooperative arrangement existing in any other city besides Chicago? 
Bruce Sagan: No. Once upon a time, Chicago had many more newspapers, and four newspapers – Chicago Tribune, Chicago Sun-Times, Chicago Daily News, and the Chicago Herald Examiner, owned by the Hearsts – shared the costs.
Since I'd  been a copy boy at INS, I went in at City News as a reporter, as someone who could train reporters. You will never believe my first assignment – I was reporting from the old Hyde Park Police Station, in the 5200 block of Lake Park. Where Lake Park Avenue is now, against the Illinois Central tracks. At City News, I covered the federal courts, the circuit courts, and the criminal courts. I covered city hall, school board hearings, and police stations all over the city. 
Jill Petty: What an amazing way to apprentice! It sounds like the minor leagues for the newspapers in Chicago. Through City News, the papers invested in talent, and directly reaped the benefits. 
Bruce Sagan: Exactly. And we worked on beats, under the beat reporters at the newspapers. 
There was even a physical infrastructure to support this set up – there were pneumatic tubes, between City News and the newspapers, running between underground tunnels in Chicago. We'd drop the copy into the tubes. And there was no advertising – we didn't sell anything.
One of the assignments I had at City News – I was the night reporter at Chicago Police Department headquarters. I ran from midnight to eight in the morning. And at that point, there were four other reporters covering this beat. As the kid, I was supposed to wander the building and work, but I was never ever to scoop the other reporters. That was a no-no. 
Once when I was working the federal courts, a judge criticized me because I wasn't wearing a suit. I was a reporter in his courtroom, and I was not appropriately dressed. And that was important. You're going to work the federal building, you'd better be dressed for it. We learned all of these things by having to be there. 
This is how I learned the news business – from doing it. From listening to other journalists. You learned what facts you didn't have, how to work the phones, how to organize your story. And there's this famous story about City News. Arnold Dornfeld was a legendary editor there. He said, "If your mother tells you she loves you, check it out." This is how journalists were trained. It was absolutely terrific.
Jill Petty: Coming out of that experience, what were the things you learned that you applied right away, at the Herald? And what were the things that stuck, over time?
Bruce Sagan: That getting it right is hard. And that's the most important journalistic lesson I can imagine. And you know, these editors, part of their job was to teach you how to write a story, and they loved doing this – they were writing 15, 20 little stories every day. 
I also learned "the how" of it, right? I had a great education at this level, and City News really prepared me for the Herald. By the time I left, I was running the overnight desk – I ran the shop from midnight to eight in the morning. I knew how to train other reporters. 
Jill Petty: Bruce, can you talk about why it's hard to get it right? What makes it hard? 
Bruce Sagan: Well, first of all many of your sources are going to have their own agendas. One of the most difficult things for a reporter to do is to figure out who's telling you the truth. If it's a complicated story, it really is hard. And that's the key question – who is telling the truth? 
Then sometimes nobody wants to tell the truth. When you get into stories about government and politics, nobody wants to be helpful.
Jill Petty: What were those first years at the Herald like?
Bruce Sagan: I didn't write the first issue when I took over, but I wrote most of the third, and many going forward. We kept the Herald alive by reducing overhead, and shrinking the staff. We had one person. advertising. The editorial department had two or three people, but after we came in, it was me. I made sure the paper was at the newsstands. I took the paper from the printer. We simply did everything. We moved locations, to keep costs lower. Thankfully, people were delighted that the paper stayed. The community was supportive. We were lucky. It wasn't all luck, but we were lucky. 
Jill Petty: What was the high watermark for you, financially? Was there an especially good and profitable stretch?
Bruce Sagan: We invested $2,500 to purchase the paper in 1953– we got the furniture, the subscription list, the records, And we held another $2500 that we could lose. This was July, and we figured we would make it until Christmas, but we didn't need to use it. Really, the Herald was able to build from 1953 to 2008. But in 2008, two things occurred simultaneously –  there was the recession, and the rise of the internet. The impact of those two things – this did newspapers in. For instance, newspapers – including the Herald – lived on classified advertising. Where do people shop now? Craigslist. Online, it's no longer via newspapers. This was a huge revenue stream for the Herald, for most newspapers.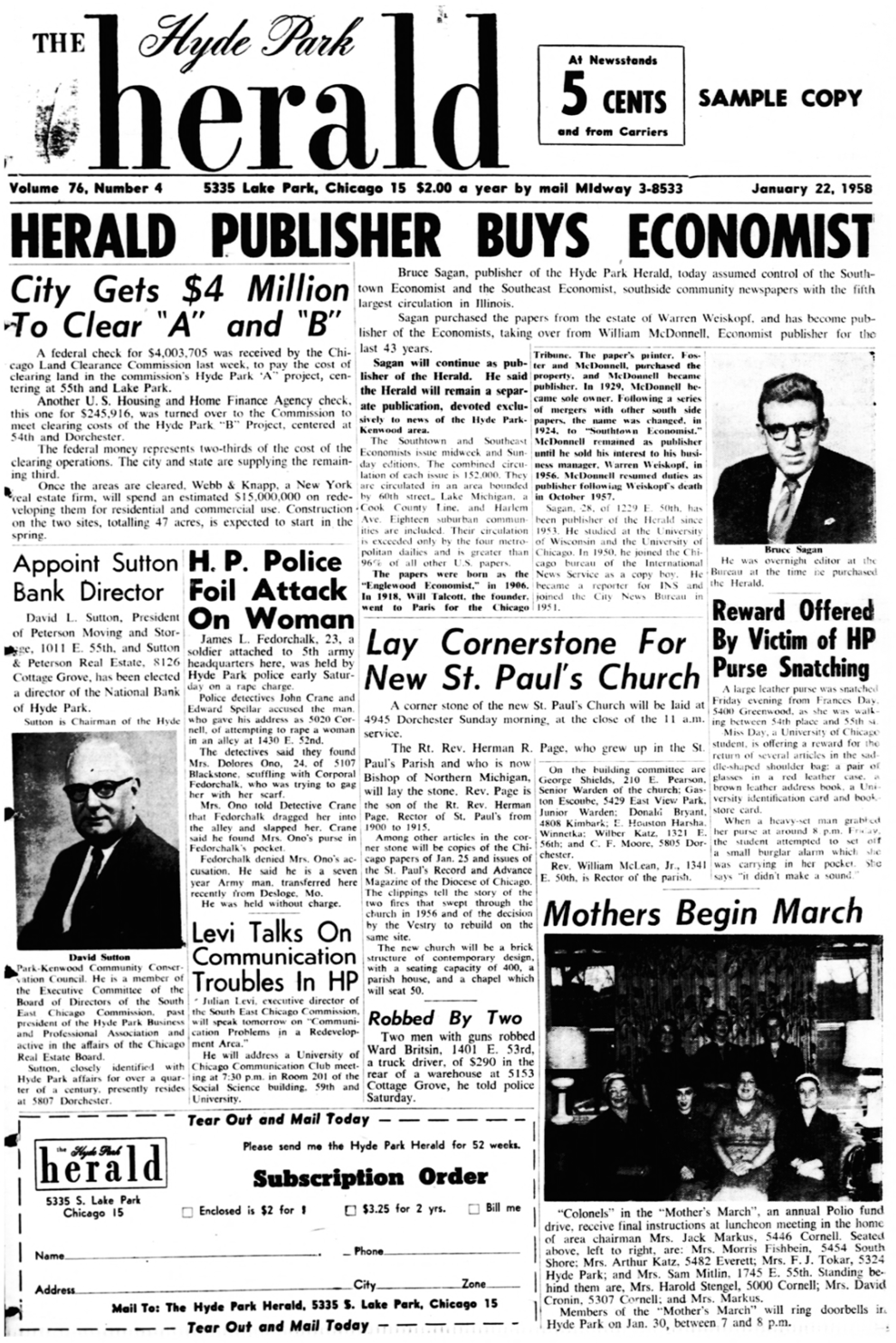 Jill Petty: You've innovated in Chicago journalism for so many years. In addition to the Herald, you owned other neighborhood newspapers, most notably you bought the Southtown Economist in 1958. We're compressing a lot, but can you share your perspectives on the challenges you believe the Herald currently faces. 
Bruce Sagan: Our problem is that the economic model of newspapers is broken. And everyone is trying to figure out how to make something new work. Clearly, many readers are  going to pay for the journalism they want. You can see that at the upper levels, with papers like the Financial Times, Wall Street Journal, New York Times.
But it's challenging. Most papers are still struggling to figure this out. The question you're asking –  what do we think we're doing in this market? How can we succeed? I hope this alliance between the South Side Weekly and the Hyde Park Herald creates an enterprise that can experiment at the most local level, and supports people whose jobs are to wander the streets, and share back the news.
Jill Petty: If you had to identify the most important legacy from your time at the Herald, what might it be? 
Bruce Sagan: During most of my career, there were a few ways to communicate. One was the local community newspaper, if you had one. Another might have been the church bulletin. But newspapers allowed many factions in a community to participate, to belong. They broadened the sense of community. Now information is segregated, and targeted. We're in a harder moment. If we lose independent journalists, this would be a great shame – a great breaking apart of shared experiences. Newspapers strengthen connections.
Jill Petty is an editor, educator, and Sox fan who grew up in Chatham and Hyde Park. She has worked for The Nation, Ms. Magazine, South End Press, and Beacon Press, as well as a number of nonprofits. She currently lives in South Shore.