The Chicago City Council unanimously passed the Woodlawn Housing Preservation Ordinance after months of legislative debate and years of community conversation, installing a buttress against fears of displacement and gentrification before the Obama Presidential Center breaks ground.
"This has been a long time coming, but I think it is the right direction to go," said Ald. Leslie Hairston (5th) at the meeting. Through the ordinance, she said the city is "righting the ways" from the societal ills uncovered by the coronavirus pandemic and social unrest following the police killing of George Floyd.
The ordinance will ensure that investments in Woodlawn will not leave neighborhood residents behind, she continued, knowing that the community is being developed "for us to remain in our communities."
"What we're seeing around the world are communities that are left behind, and when something new is coming, it's not for them," Hairston said. "This is not that ordinance, and these protections that we put in place will last for decades."
Ald. Jeanette Taylor (20th) called housing a human right and displacement a constant threat. She thanked Hairston and Mayor Lori Lightfoot for saying displacement should not happen.
"I think the hard part is having the conversations about how it doesn't happen," she continued. While the ordinance is a compromise, she said Woodlawn can be proud of the ordinance: "They worked very hard, they worked together, and they battled it out. It just shows you, through conversations and us working together, that we can make great things happen for all constituents in the city."
"Chicago has a history of figuring it out," Taylor said, after thanking the aldermen and administration officials who helped get the ordinance to fruition, "and we have to remember that what we do in Chicago is what they model around the country. Let's continue to do that work and work together."
The ordinance's passage comes after years of interplay among community groups, the Obama Foundation and politicians. 
After former President Barack Obama declined to support the push for a voluntary community benefits agreement, activists took to the political process. In the midst of a tough fight for re-election, Hairston came out in support for a measure. After Election Day, she and freshman Taylor, a career organizer, unveiled a shoot-for-the-moon CBA ordinance that was assigned to the Housing Committee but went nowhere.
More than a half year later, Lightfoot, who had voiced support for a CBA during her campaign, unveiled her own framework, dubbed the Woodlawn Housing Protection Ordinance, and enlisted the community, Hairston and Taylor to help refine it.
"We had an administration that we were able to move forward with," Hairston said in an interview after the council meeting, crediting the departments of Planning and Development and Housing for their involvement for the process. "There were almost 300 hours of work put in, and that was just done since Ald. Taylor got there."
Taylor said how happy she was to bring her constituents into the planning. "They now know what the process is and how they can be involved," she said in an interview.
After months of negotiations, the ordinance retains the general framework proposed by the Lightfoot administration, including $4.5 million of funding for new and expanded housing programs in the neighborhood.
"Since day one, our efforts have been focused on building economic growth and cultural enrichment in the Woodlawn community while also ensuring that every neighborhood resident is able to stay in their homes and share the transformative promise by the Obama Presidential Center," Lightfoot said in a statement. "This groundbreaking ordinance is a testament to our partnership with Alds. Hairston, Taylor and Woodlawn's residents in a collective effort to prevent displacement and further opportunity for this community."
Ald. Sophia King (4th) echoed her in an interview.
"This is just a real example of how activists, advocacy and government can come together and do what's right for the community," she said. "While it's not ideal — I know both Alds. Hairston and Taylor want more for their communities — I think it's a great start, and I'm sure they will tighten up some of the nuances and details as things move forward."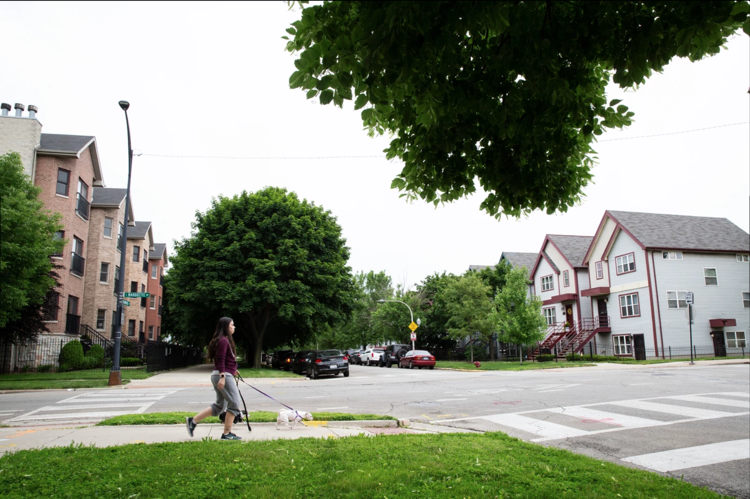 The city is making $500,000 available from the Affordable Housing Opportunity Fund and other sources that may be used to construct, rehabilitate or preserve affordable housing in Woodlawn and other City Council-approved housing programs. This includes the continuation of the Renew Woodlawn Homeownership Program, which has facilitated the acquisition and redevelopment of at least 45 residential units and created over 30 new homeowners in the neighborhood.
The City Lots for Working Families program, which allowed the sale of vacant, city-owned land to developers for $1 apiece for single-family homes and two-flats, will be modified in Woodlawn to allow the construction of condominiums and townhouses.
Grants of up to $30,000 in home repairs from the Chicago Community Land Trust's Affordable Homeownership and Housing Program will be available if homeowners agree to invoke long-term affordability covenants with the Land Trust. 
The city's Preservation of Existing Affordable Rental program will provide $1.5 million to create a program in Woodlawn to refinance multi-family rental buildings in exchange for affordable rental covenants over a 30-year term for low- and moderate-income families.
But some parts of Lightfoot's original ordinance were changed to preserve and expand housing for the neighborhood's lowest-income and longest-tenured residents.  
For instance, the ordinance that passed contains a stipulation that 52 city-owned vacant lots in Woodlawn must be used for developments where 30% or more of the housing units are built for households earning half of Area Median Income (AMI) — about $25,000 for a family of four — or less.
In Woodlawn, about half of households earn less than $25,000, according to the Chicago Metropolitan Agency for Planning.
Similarly, Lightfoot's original ordinance required that a fifth of the housing units created through the PEAR program should be affordable up to 80% AMI — $58,250 for a household of two. In the compromise version, those units are now set aside for lower-income households: half for those making 50% or less of AMI, the other half for those at or below 30% of AMI.
For the homeowner grant repair program, activists shortened the amount of time that a homeowner must have lived in their house before they can receive repair funds from the program. It also gives the owner up to $20,000 in assistance, instead of the $15,000 in the original legislation. 
"I ain't never heard of people being offered the right to purchase the building. I'm proud of that," Taylor said. 
"I'm proud that we're going to build more affordable units. I'm proud that we're looking at home ownership in a way that hasn't historically been asked. In my previous jobs, I made $50,000; home ownership was never in my mind, because I just knew I could never afford it. Us looking at it in a different way, where home ownership is possible, especially to more folks who are working, to change the circumstances of their life, is something to be proud of.
Taylor said she looks forward to looking into progressive taxation strategies to address the city's dire financial circumstances and, in Woodlawn, job-training programs. She also suggested a local housing trust.
"People want to come to our community now because the Obama Presidential Center is going to be built. Other than that, they wouldn't set shop up in our community," she said. "If you want to set shop up in our community to make money, you should pay, and that should be able to help the homeowners. It should be able to help with property taxes, because of course they're going to rise. And it (should help) people keep their properties and their homes."
The original CBA ordinance would have also included Hyde Park and South Shore in its footprint, and Hairston said she was meeting with Planning and Development Commissioner Maurice D. Cox to discuss work on South Shore the afternoon after the council's meeting. She said legislative work on housing in Hyde Park would follow.
"But we wanted to get this done first," said Hairston, "because that was the most important piece."