More than a year since the passage of the Woodlawn affordable housing ordinance, the city and local community activists are in disagreement over how best to implement one of its central provisions. 
The landmark piece of legislation contains a suite of housing programs designed to protect both homeowners and residents from displacement due to increases in housing prices and land value. Initiatives include a homeownership program, funds for house repairs and a "right of first refusal" that allows tenants to buy a property they live in that is for sale. 
The disagreement comes over one of the ordinance's key pieces, which mandates that a quarter of city-owned land in the neighborhood — approximately 52 vacant lots — must be developed to include very low-income housing. 
Activists with the Community Benefits Agreement (CBA) Coalition want to pre-select the specific city lots that will be used in order to ensure that many of the developments will be located in high-density areas along the 63rd Street corridor, creating more units. City officials worry that picking out particular properties before selling them might discourage developers from choosing those lots to build on. 
For these 52 lots, at least 15% of the housing units in any development are set aside for households earning 30% to 50% of Area Median Income (AMI), and 15% of units go to households earning 30% or less of AMI. (There are also some density requirements attached to which lots are used.) 
AMI is calculated for the entire Chicago region — for a household with two adults, it's around $75,000. Half and 30% of AMI are, respectively, $37,300 and $22,400 for households of the same size. The median household income in Woodlawn is $25,450, according to an August 2021 release from the Chicago Metropolitan Agency for Planning.
Virtually every piece of city-owned land in Woodlawn comes with certain affordability restrictions for developers that buy it, but the 52 lots could help create housing close to many current residents' income levels. 
At a Dec. 15 meeting of the city's Woodlawn Housing Working Group, residents, CBA Coalition activists, Ald. Jeanette Taylor (20th) and city staffers, including Department of Housing (DOH) Commissioner Marisa Novara, debated the issue. 
"If you designate certain high-density lots for this and some that are not for this, you are essentially pointing developers where they will need to meet this goal and where they will not need to meet this goal," said Novara. "If you are suggesting that some lots have deeper affordability and some do not, there could be an adverse response to that, which is that you direct development to the lots that don't have that." 
But she added that the choice was partly up to the working group to decide if they wanted the pre-selected lots or not. "It's not mine to solely answer. This is a working group, and it's the alderwoman's input as well, so that's why we have a group."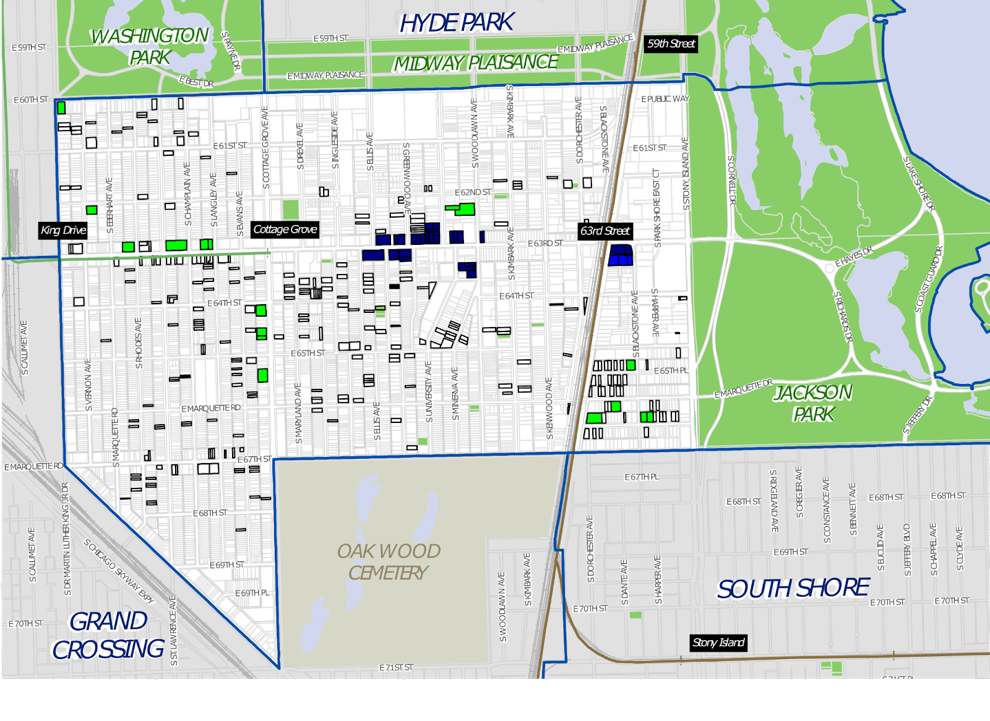 In a proposed map from CBA Coalition shared with the Herald, the pre-selected 52 lots would be concentrated on 63rd Street and east of Cottage Grove Avenue, closer to the location of the Obama Presidential Center (OPC). 
"So we've seen what's being built around the fenced lots that are coming in with these $500,000 and $700,000 units. And this is what's being built on privately owned lots. We just want to make sure for these city-owned lots, the 52 lots that we want in the ordinance, we can get the most affordable housing units possible," said Autumn Infiniti, a member of the CBA Coalition and the grassroots organization BYP 100 during a town hall hosted by the coalition at Harris Park on Saturday, Dec. 11.
At June and July meetings of the working group, the city did actually present its own map of pre-selected lots, with DOH staffer Aaron Johnson telling attendees that they wanted feedback on which lots to reserve. 
"What we're talking about today is the reservation of lots, and the development comes later," said Johnson in July. 
At the December meeting, Alex Goldenberg, executive director of Southside Together Organizing for Power (STOP), a member of the CBA Coalition, referred back to these earlier meetings during the group's discussion.
"That exercise for feedback has now been completely thrown out, right?" he said. "That idea of pre-selecting the lots, which you did tell us was going to happen, that the city is now saying you no longer want to pre-select the lots." 
"I don't think we're saying that we don't have any intention of getting these levels of affordability, it's just that we're trying to make sure that homes actually get developed, so that's the conversation we're having today," Novara responded. "I don't know what was said in meetings over the summer that I wasn't part of, so I don't want to speak to that." 
(The DOH did not respond to requests for comment from the Herald for this story.)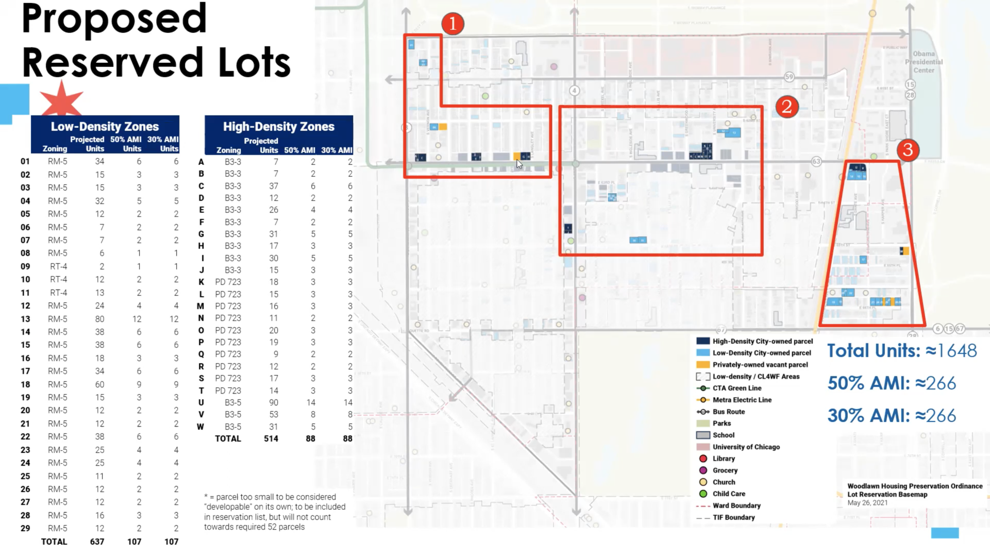 As a model for how the program might be implemented, Novara pointed to the development of the mixed-income Park Station project, which is being built at 63rd Street and Maryland Avenue and received city approval this past summer. The project will count as part of the deeply affordable lots program — out of its 58 units, nine apartments will be rented at 30% of AMI ($470 for a two-bedroom unit), and another nine at 50% AMI ($860 for a 2-bedroom unit). (Another 23 will be rented at 60% AMI.) 
"This is exactly what happened with Park Station Lofts," she said. "We had a development team that needed a subsidy to complete their development. They came to us and said, 'We would like city-owned land.' The Department of Planning (and Development) then worked with them on the land. We then said, 'Hey, we have this agreement in the ordinance, and we want to talk to you about meeting the agreement in the affordability scale of your units.' They did that and the project is now moving forward to closing." 
Other programs in ordinance moving forward
Other sections of the housing ordinance have been moving forward. 
Applications for the Woodlawn Long-Term Homeowner Improvement Grants opened on Jan. 3 and will run until Feb. 15. The grant provides eligible homeowners with up to $20,000 for exterior home repairs for those who make less than $100,000 a year.
To be eligible for the grant, homeowners must own a property in Woodlawn, the property must be 1-4 units, they must have owned and lived in the property for the last 5 years, not be in foreclosure, and be current on all property taxes. The full list of requirements can be found on the Neighborhood Housing Services website.
The Woodlawn Loan Fund, which loans money to developers purchasing and rehabbing homes in the neighborhood, launched last spring. It closed on a property that is projected to have 9-12 units, of which half will be affordable to households renting at 80% AMI. 
The Chicago Community Land Trust has also bought a two-flat in the neighborhood that will be sold to a household at 80% AMI. 
At the CBA Coalition's Dec. 11 town hall, however, residents still expressed worries about the pace at which development was taking place. 
"Since I've lived here, I've seen tremendous changes, more changes are coming. These changes are subtle, but serious. Buildings are being built in our community that we can't afford to live in, our property taxes are going up, people are moving into our community who wouldn't have thought twice about living here, five or 10 years ago," said Patricia Tatum, who has lived in the neighborhood for more than 37 years.
Tatum says that she has been bombarded with nonstop calls, emails and texts about selling her home, 
"It was so overwhelming at one point, I had so much anxiety, I thought I was gonna lose my home," she said.  "We're not having it, we've been here. We've endured the crime and the devastation in this community. We should have a voice in what happens. Our vision isn't their vision. Our vision is to have a diverse community."