Chicago Birthworks Collective, a company that provides extensive doula services to Black parents-to-be, is opening their first physical space in Hyde Park in late November. The operation is coming to the former Cafe Corea storefront, 1603 E. 55th St.
Since 2018, the mother-daughter duo have been running the collective, which began as a way to help out other Black parents and parents-to-be with the emotional and physical aspects of pregnancy.  
Co-founder Tayo Mbande said that after her second child, she became interested in the business of birth and motherhood, and wanted to help others "(do) pregnancy better". Her mother, Tony Taylor, a licensed hair stylist, had already been doing this for decades. She has experience caring for friends and family in hospital settings and helped her six sisters and daughters give birth. 
When Mbande had her deliveries, Taylor effectively acted as a doula, bringing food to her and nurturing everyone involved, including her husband and child.  
With the shared interest of caring for Black pregnancies, the two went to Portland years ago to complete a training to be doulas, a non-medical  professional who provides guidance and care from pregnancy through labor in a home or hospital setting. The training was taught by Shafia Monroe, who is a "granny midwife," the oldest practicing Black midwives in the country, according to Mbande.
On Monroe's website, the granny midwives are credited as the gatekeepers of a centuries-old practice born out of enslavement to ensure the safe delivery of babies.  
"(Monroe) taught us how to take care of Black people," Mbande said. "And the historical aspects of how long we've been doing it," Taylor added. 
Today, Black parents are twice as likely to die during childbirth or in the months after than parents of any other race, and Black infant mortality rates are triple that of white babies. To improve these outcomes, there is a growing national trend of Black parents turning to doulas to ensure their comfort throughout pregnancy, their safety and the safety of the child during delivery.
Most doulas are trained through DONA, Mbande noted, a very large national organization offering birth doula and postpartum doula certifications, but that does not focus specifically on care for Black babies and parents.
"The way we want to show up for Black families is unique. And we want them to feel like we're not inviting them to practice someone else's culture," she said. "We wanted Black families to feel like, 'I can get premium care that is about me,' and that wasn't designed for someone else." 
"The best care is in your language. It is in your community," she added. And Chicago Birthworks Collective has "just tried to make it better and better, more exciting, more luxurious."
After forming, the collective quickly began serving other doulas (rather than clients; the typical model), covering their overheads and building community. "When we take care of doulas, you don't even have to worry about the clients," Mbande said. 
She noted that because it's relatively cheap to become a doula (around $1,500) the duo were seeing people harmed by inexperienced practitioners, and clients expressed having trouble finding the right doula.
Birthworks Collective solves that problem by allowing people to interview a few doulas all in one place through an intake process. 
Over the years they've curated a large network; they can recommend specialists for any stage of the process, such as lactation experts, postpartum doulas and chiropractors. 
They also hold large-scale community events like their annual Black Breastfeeding cookout held in the Dan Ryan Woods; and a sale they did at a Randolph Street pop-up. In 2020, during the pandemic, they held a drive-in event, "Movies and Milk," where people were able to take a look at products in the back of people's cars, and ask any lactation questions. 
In the warmer months, every Saturday in Hyde Park the Collective also holds a stroller stride with families at Promontory Point. 
Though they were able to hold these events without a physical space, "We wanted one from the beginning," Taylor said. "Mom did," Mbande clarified. 
They did have a small office at 5113 S. Harper Ave.,above the Whole Foods, but needed more square footage. When they decided to look for a new space, they knew they wanted one Black families would feel comfortable coming to, so not too far north.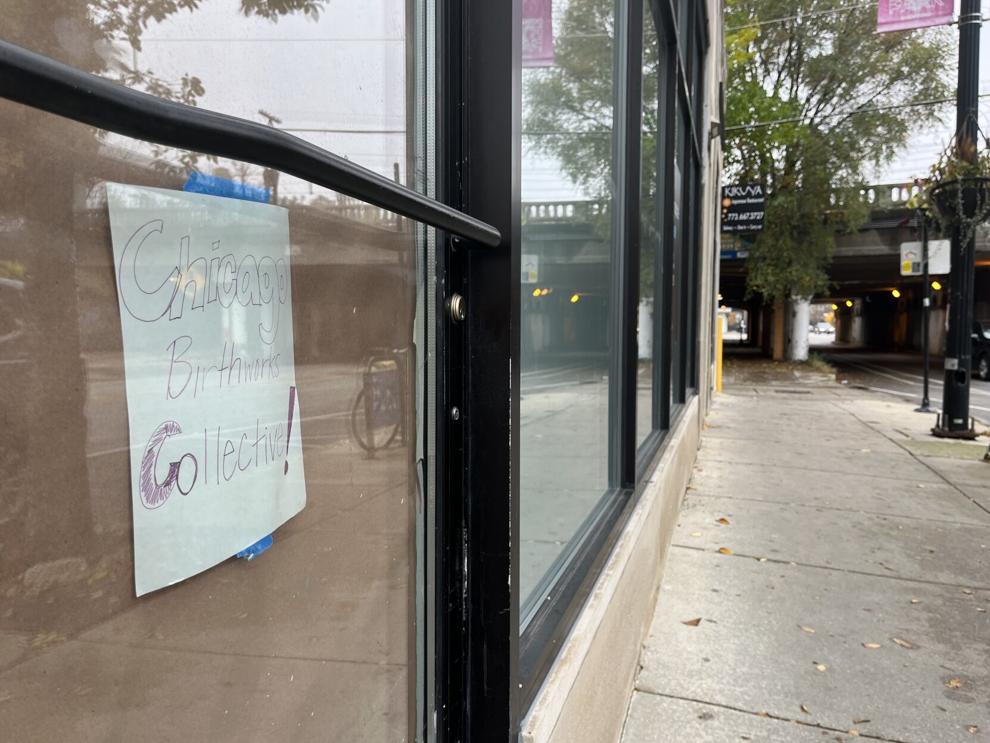 "We wanted to make sure people could get care in their own community or close by," Mbande said. Hyde Park is centrally located for their client base, which comes from across the city and southern suburbs. 
People have already been stopping by, they both noted, and are very curious about what the space will become. 
One important thing about their model that many don't recognize, Mbande said, is that Chicago Birthworks is not a community-based nonprofit organization. "We're a business," she said. 
Their full-service birth packages start at $1,500 and range up to $2,500. They include services like prenatal support, lactation support, postpartum care, a comprehensive breastfeeding plan and doula-led bodywork sessions. 
"We want to share and open up about the value of what your doula is doing…(they are) giving themselves in a way that even your providers are not doing, who makes more money than your doula," Mbande said. She noted that so far it has not been an issue for people to pay for this service. 
In the maternal health space, she added, everything is being dropped on doulas (When providers are not able to provide consistent, high quality care). 
"One of the places that we see ourselves standing in is making sure that our doulas are recognized and humanized as people, who are care providers, and should be compensated very fairly," Mbande said. 
The Love Package Project, an offshoot of Chicago Birthworks, is a nonprofit started in the summer of 2020, when there was an influx of funds and support for Black businesses. They started collecting items like diapers and formula at a time when many stores were closed in response to mass civil unrest, and distributed these care packages once a month to Black moms and parents. 
Today, the project also offers a community doula program, where mothers can access care at a lower price point; and which apprentices doulas-in-training. The nonprofit has channeled extra funds into scholarships and offers sliding scale pricing for these trainings. 
"After they've completed their certification, they can interview to work with Chicago Birthworks Collective as a traditional doula," Mbande said, which creates a pipeline of well-trained doulas. 
"And it works so well because they know the service model. They know about our standard of care. They know about our network and our community," she added.
The physical space is two levels, with reception and retail on the first floor and room for classes, appointments and support groups on the second. On the top floor, a private treatment room will allow clients to get one-on-one care, such as meeting with a lactation specialist or massage therapist.
The retail section will feature "wellness products that we've come across over the years that we know really impact your ability to feel better and to be better in pregnancy and parenthood." Mbande said, like Chicago-based Nyssa, known for their postpartum products. 
"We're not reinventing the wheel, but there are some items that are highly recommended, and that speak to our brand model of pampering yourself and being in homeostasis," Taylor said. 
"We're also never going to represent or collaborate, engage with a brand that we know isn't for Black maternal wellness," Mbande said. 
But the doula services will "time out at some point," Mbande said. Their physical space will serve an extension of this care at the in-between times, before and after pregnancy. "What about when your kids are 18 months postpartum?" she asked. 
Taylor and Mbande are envisioning a rotating cohort of specialists who will work together collaboratively, including a lactation team, nutritionist, parent coach, prenatal masseuse and potentially an acupuncturist or a chiropractor. 
Having all these care providers work in concert will mean that clients do not receive conflicting advice, Mbande said. 
Though they've yet to open their doors, Taylor would like to expand Chicago Birthworks to other cities and states too, though Mbande said she might stop with the Hyde Park location. 
"That's mom's goal…she might take the train, and imma get off here," Mbande joked. 
They are planning to open in November, but do not have a set date. "We're not going to rush it," Taylore said. 
"It's also a moment for us to teach folks, 'hey, we're people too, and we're moms,'" Mbande said. "Nothing is on time with moms. Nothing, ever."