More than a decade in the making, construction on Bronzeville Lakefront, a $7 billion, mixed-use megadevelopment, is now underway. 
The 48.6-acre campus is a redevelopment of the old Michael Reese Hospital site. On Wednesday morning, March 29, city officials and developers broke ground on the two-phase project, which is expected to take upwards of two decades to complete.
Stretching from 26th Street to 31st Street and Martin Luther King Drive to Lake Park Avenue, the project is 7.8 million square feet of residential, office and retail space.
"This is a story that started 140 years ago," said Scott Goodman, founder of Farpoint Development, one of the many developers with a piece of the project. At Wednesday's groundbreaking, he described the hospital's founding in 1881, which was started with money donated to a family unable to afford healthcare. More than a century later and after decades of escalating financial struggles, the hospital went bankrupt and closed in 2009. It was torn down three years later and the land has been vacant since.   
Goodman is the leader of Global Research Innovation Technology (GRIT), the consortium of developers behind the project. GRIT also includes Loop Capital Management, McLaurin Development Partners, Draper and Kramer, Chicago Neighborhood Initiatives and Bronzeville Community Development Partnership. 
Mayor Lori Lightfoot also nodded to the site's history. Now owned by the city, the site was to have hosted the athletes' village under the plan for Chicago's doomed 2016 Olympic bid. 
"When that plan didn't come to fruition, there was a lot of concern about what would happen on the site," Lightfoot said. "Then we subsequently learned that because it was a former hospital site, there was a lot of land remediation that needed to be done." 
The city issued a Request For Proposals (RFP) for the development of the site in 2016. In 2021, GRIT's plan for Bronzeville Lakefront was approved by City Council.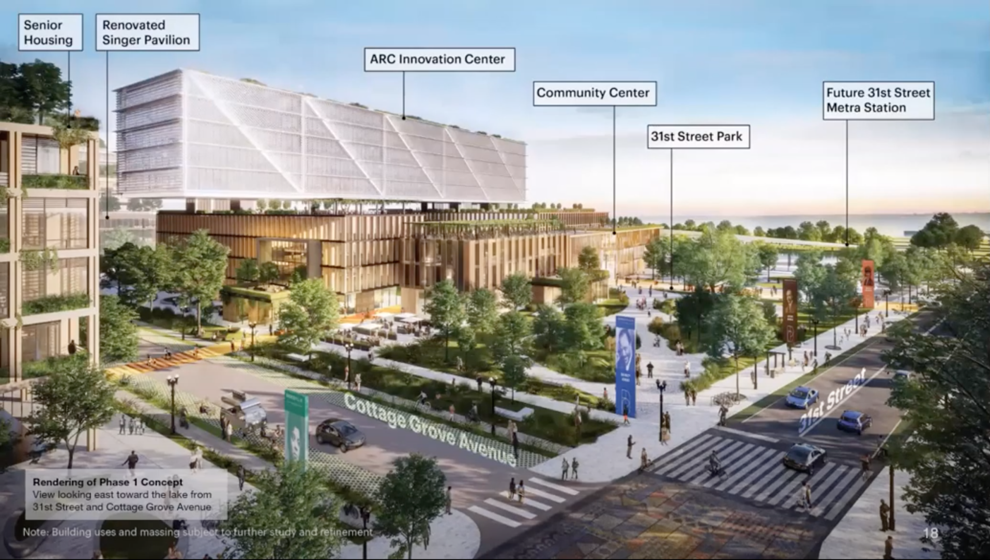 The first phase of the project has an estimated cost of $600 million and will create 1.1 million square feet of residential and retail space along the lakefront, between 31st Street and the Stevenson Expressway and DuSable Lake Shore Drive interchange. This phase includes the ARC Innovation Center, led by the Israeli Sheba Medical Center, which will provide a space for medical research that the developers say is in part intended to benefit local residents. The Bronzeville Welcoming Center, a 40,000-square-foot community space, will be part of the ARC building. 
The first phase of the project also includes the renovation of the Singer Pavilion, the only one of the original hospital campus buildings that was not demolished, 300 units of mixed-income senior housing and a new park at 31st Street. 
The second phase, which will run from 2023 to 2041, will create 6.7 million square feet of retail, residential and mixed-use development. Goodman and Lightfoot said the completed development will consist of retail and office spaces, a data center, artist housing, an entertainment district, roadways and other public amenities.
Developers have pledged 20% of the project's 5,000 residential units for affordable housing. Goodman said 10% of retail space will go towards local "disadvantaged business owners" and will be priced at 20% below market rents. GRIT will also hire 10 interns annually from local schools and universities and will reserve 12% of apprenticeships for Bronzeville residents, according to Goodman. 
Chicago Department of Transportation Commissioner Gia Biagi said the project's infrastructure developments will bring "new, walkable, vibrant places" with wide sidewalks, bike lanes and public spaces. 
"We have new and improved sections of 27th, 29th and 30th streets, Vernon Avenue, Lake Park and Cottage Grove," Biagi said. "Two of these streets are designed to accommodate an extension over the Metra tracks towards the lakefront." 
Biagi said that Cottage Grove Avenue in particular is going to be a "thriving, walkable street, where we get it all," and that she is most excited about off-street two-way bike lanes, which was met with applause. She added that developers will construct the city's first traffic circle at the intersection of 26th Street and Cottage Grove Avenue. 
Ald. Sophia King (4th) said the property also has personal significance to her — both of her children were born at Michael Reese. She individually thanked each member of the roughly 30-person Michael Reese Advisory Council. 
"Developers will come and go, politicians, public servants will come and go, but the community is here, so this is really about the community," King said. 
She also recognized four members of the council who died during the project's planning phase. King encouraged the council to fill these vacant spots as the project moves into its first phase. 
Nikki Hayes, a member of the advisory council and president of Laborers' International Union of North America Local 1001, said the council has been holding roughly monthly community meetings over the last four years, and it is divided into about six subcommittees, of which she is part of workforce development. She said they will continue to meet. 
Multiple speakers noted the project's decades-long timeline, which will stretch over multiple mayoral and aldermanic administrations. Both Lightfoot and King will leave office in May of this year. 
"This will be a project that is developed in iterations. It will take a number of years to get it done," said Lightfoot. "But we have to stay diligent and committed to make sure that the big ideas and the plans actually come to reality."