The Best of the South Side, an annual issue published by the South Side Weekly, features neighborhood bests — sites, organizations and people that touch the everyday lives of South Siders in meaningful ways. This year's Hyde Park-Kenwood section is republished in part below. To see it in full, along with the rest of the issue, visit southsideweekly.com/best-of-the-south-side-2022/ 
Best vegan comfort food
B'Gabs Goodies
Veganism is on the rise, as are the array of dining options in the neighborhood. For longtime herbivores or those new to the dietary movement, B'Gabs Goodies is a tasteful refresher in plant-based dining.
Located at the corner of 57th and Blackstone, B'Gabs "focuses on whole plant-based nutrition," said owner Gabrielle Darvassy. 
Every meal is made fresh, and the sensory experience when you walk into the eatery is calm and refreshing. A mix of potent aromas, jazz music, and a bright "hello" from someone in back of house greet you at the door. The walls are filled with abstract paintings by artist Fanta Celah, and  adjacent to a cozy dining space is a collection of herbs and holistic products such as chloride-free toothpaste and aluminum-free deodorant. 
B'Gabs first opened in Woodlawn's Experimental Station in 2011, with Darvassy running the eatery with her two sons, her husband, and her mother. "We wanted to offer this quality (food) to our own community as options were very limited (in Woodlawn)," she said. 
But her foray into veganism began much earlier. In a 2018 interview with the Hyde Park Herald, Darvassy attributed her recovery from pregnancy-related blood clotting to a change in diet and adoption of alternative medicine. "I was sick many years ago, and I used raw veganism to cure myself. And I did cure myself… because food will do that," she said.
In 2015, Darvassy moved her operation—and an expanded menu—north to 57th Street.
Today, every item is soy and gluten free, and "we also specialize in alternative diets, such as raw, juicing, and alkaline," said Darvassy. Offerings include jackfruit nuggets and raw buddha bowls filled with sweet potatoes, mushrooms, chickpeas, and zucchini. There's also an array of substitutions for popular fast foods such as nachos, burgers, and  Philly cheesesteaks. 
"I do food you can emotionally identify with, because for many people raw and vegan food is so far out there," Darvassy said in a 2012 Herald interview. "What I really care about is people eating (healthy) food… I am so sick and tired of (the community) not having a choice." (Kristian Parker)
B'Gabs Goodies, 1450 E. 57th St. Wednesday-Thursday, Sunday 11am-3pm; Friday-Saturday 11am-6pm. (773) 256-1000. Bgabsgoodies-100666.square.site
Best glimpse into what Chicago could have been
Burnham Nature Sanctuary
At a secluded trail head near 47th Street and just west of DuSable Lake Shore Drive., visitors are given a choice between two paths: a well-maintained paved trail or a more adventurous wood chipped trail winding beneath a dense canopy of trees.
Along the wood-chipped trail birds sing through the dappled light that sifts through the trees, and squirrels rustle in the brush foraging from berry trees. For the amateur botanist, special habitats and plants, such as native cottonwood and white ash trees, are identified by clear plaques. The canopy periodically gives way to lush prairie teeming with butterflies and birds. Intentionally designed to support native plant species, the prairies, meadows, and woodlands are a brief glimpse of the environment before the city was built. 
Burnham Nature Sanctuary is a part of the Burnham Wildlife Corridor, a 100-acre ribbon stretching along the lakeshore from Kenwood to McCormick Place.
Amidst this path, you may come upon a gathering space entitled "Sankofa for the Earth." Throughout Burnham Wildlife Corridor, there are five gathering spaces which reflect the culture of nearby neighborhoods in Chicago. "Sankofa for the Earth" was a partnership with the South Side Community Art Center in nearby Bronzeville, which advocates for African American arts and artists. This space reminds us that history holds important information that allows us to successfully move forward in our lives. It is a sacred space to reflect on South Side history and connect with the land our community depends on.
For a more casual stroll, the paved option gives all the beauty at a slower pace. The trail winds beneath the edge of the canopy, and benches provide a place of rest to relax and breathe in the view. One section of the trail is designed as a boardwalk, elevated just above the rippling prairie. If you come here at the right time of the year, beautiful blooming wildflowers are abundant and make the perfect backdrop for pictures with loved ones. 
This wildlife corridor is named after Daniel Burnham, the Chicago city planner and architect responsible for designing the World's Columbian Exhibition of 1893, which took place in Jackson Park, just south of the sanctuary. The Burnham Nature Sanctuary pays tribute to Burnham's 1909 "Plan of Chicago," which envisioned transit improvements, reclamation of all twenty-nine  miles of the Chicago lakefront with public parkland and an expansion to the city's park and boulevards—though most of it was never realized. (Piper Graham)
Burnham Nature Sanctuary, 1600 E. 47th St. chicagoparkdistrict.com/burnham-wildlife-corridor-burnham-nature-sanctuary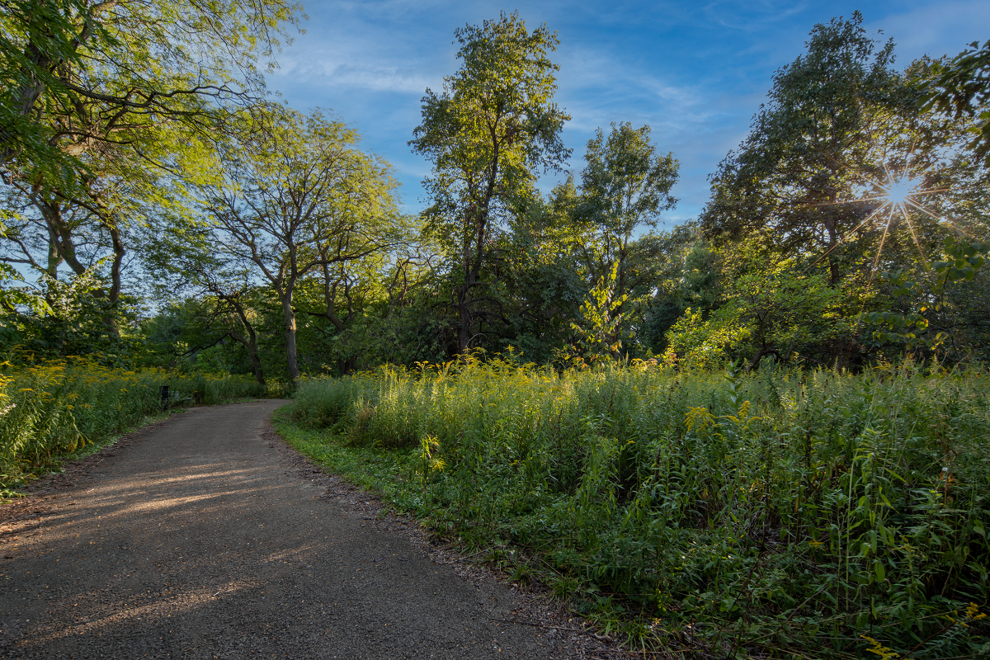 Best $1 produce bin
Open Produce
Nestled in a row of eateries, florists, and corner stores along 55th Street sits Open Produce, a micro-grocery that has provided neighbors with fresh produce, locally made dry goods, and community bike tools for more than a decade. 
Ambient conversation and a bright interior greet customers as they enter Open Produce's historic space. Built in the early 1960s, the building at 1635 E. 55th St. has lost none of its charm, and the level of thought and detail become immediately clear to a patron, as they survey the arrangement of goods stretching to the ceiling on built-in shelves. Labels are written by hand, noting origin and details of goods, along with anecdotes about the products. Among its many vaunted features, the store affords the neighborhood with fresh local bread, including baked goods from the nearby Medici on 57th, as well as produce from farms across the Midwest.
The store's $1 groceries and free bread bins offer excess produce and baked goods for patrons in a pinch. This has the twofold function of reducing food waste and hunger throughout the neighborhood. Link cards are accepted and promoted as a method of payment, increasing access for all. Opening at 8am. and closing at midnight affords the night shift and the early risers the ability to access groceries when few other places in the neighborhood are up and running.
The niche neighborhood market was opened in 2008 by three friends and recent University of Chicago graduates: Andrew Cone, Gabriela Russek and Steven Lucy. After spending a few years working in the corporate world—in trading and computer programming—the three friends reunited with a lofty goal of selling organic, ethically sourced, and culturally diverse goods, though they had trouble securing loans for the startup. When banks denied them, they borrowed $30,000 from friends and family and charged another $10,000 on a credit card. 
After several grocery store closures in the neighborhood, a recession, and pandemic, Open Produce is still going strong.
Today the warm, old fashioned chalkboard above the produce section is colorfully adorned with a drawing of tomatoes and a smiling sun, stating, "Summer is tomato season and every season is friendly season." (Maggie Ruble)
Open Produce, 1635 E. 55th St. Daily 8am-12am. (773) 496-4327. openproduce.org
Best Jolly Green Giant
"Green Lady" sculpture
On the edge of Jackson Park, a green woman basks in the sun. Obscured by a stretch of trees at the corner of 59th Street and Stony Island Boulevard, she stands tall with arms raised, a piece of public art celebrating the union of human craft and nature. 
"Transformation," a fifteen-and-a-half-foot-tall statue carved out of a dead ash tree, was created by Iowa-based chainsaw carver Gary Keenan in 2020. 
Also dubbed the "Green Lady" by Keenan, the statue is a part of the Chicago Tree Project, a collaboration between the Chicago Park District and Chicago Sculpture International. As the emerald ash borer, an invasive species of beetle encouraged by climate change, infects trees across North America, artists give trunks new life through carving, painting, and installing art onto sick and dying trees. 
The emerald ash beetle has been called the "most destructive forest pest ever seen in North America" by the Park District, and threatens to chew through all ash trees in Chicago within the next decade. Given that about ten percent of trees in city parks are ash trees, the Park District has been rapidly planting non-ash trees to account for the projected loss of greenery. Meanwhile, to make the most of the damage already inflicted by the beetle, they have commissioned more than fifty unique ash tree sculptures since 2014, several which are in Hyde Park. 
Keenan's process is poetic, using loud, aggressive machines like chainsaws and power tools to carve a sculpture full of hope. Debuting in the early days of the pandemic, the "Green Lady" embodies resilience against brutal biological forces: viruses and invasive species. 
While the lower portion of the trunk was left unpainted—a visual that likens the piece to nearby trees—the rest of the sculpture is painted in various shades of green, emphasizing the textured overlapping vines and leaves which climb up her thighs and sprout from her arms. As weeds overtake the sculpture's base, it's as if the woman herself has grown out of the earth. The sculpture is striking; her pose is unwaveringly powerful. In a 2020 interview with WTTW, Keenan recalled a passerby that stopped to mimic the "Green Lady" pose, taking pictures with her arms raised and face turned to the sun. (Ellie Gilbert-Bair)
Transformation, S. 59th St. and S. Stony Island Blvd. chicagotreeproject.org/trees-2/gary-keenan/