"One minute," shouts DePaul student Maxwell Murray to a group of street soccer players in red and yellow pinnies playing on a defunct basketball court, letting them know how much time they have left in their game. 
Next to Murray, a radio broadcasts Sunday's Manchester United – Wolverhampton Wolves game. (United won 1-0 after a late Mason Greenwood goal.) A young man sitting on an adjacent bench moves his top-knot dreads in time to a cut from a Dreamville compilation album. 
Sunshine, plain talk, rap and nimble footwork — these are the sorts of things that Murray had in mind when he started the Urban Football League (UFL) earlier this summer in Kenwood Community Park, 1330 E. 50th Street.
"The Urban Football League is basically just an attempt to bring community together through the sport of football," says Murray, using the British term for soccer. "We're focused on connecting Black communities ... and offering our communities the sport in a different language or landscape than maybe they've seen it before."
As a young Black soccer player living on the eastside of Detroit, Murray spent many hours and miles with his mother or grandmother traveling to games in the affluent suburb of Grosse Pointe or beyond.
"I was the only Black kid on my teams," he remembers.
"It's very much a diverse community out here," he comments, looking across Kenwood Park.  "It's diverse within its multiculturalism."
"To play in a community like this where we are able to listen to our music, where we are able to communicate in the way we naturally communicate, you know. It gives it a different feeling."
(Murray — "an Arsenal supporter, as sad as that is" —  strongly recommends Navy Blue, a rapper out of New York, if you want to catch the vibe of skateboarding and street soccer culture.)
At DePaul, Murray is an African and Black Diaspora Studies major. His father is African Caribbean and his mother is African American. 
"I call this our home court," he says, looking at the paved slab of the old basketball court. He and his street soccer friends have nicknamed it "The Pavement."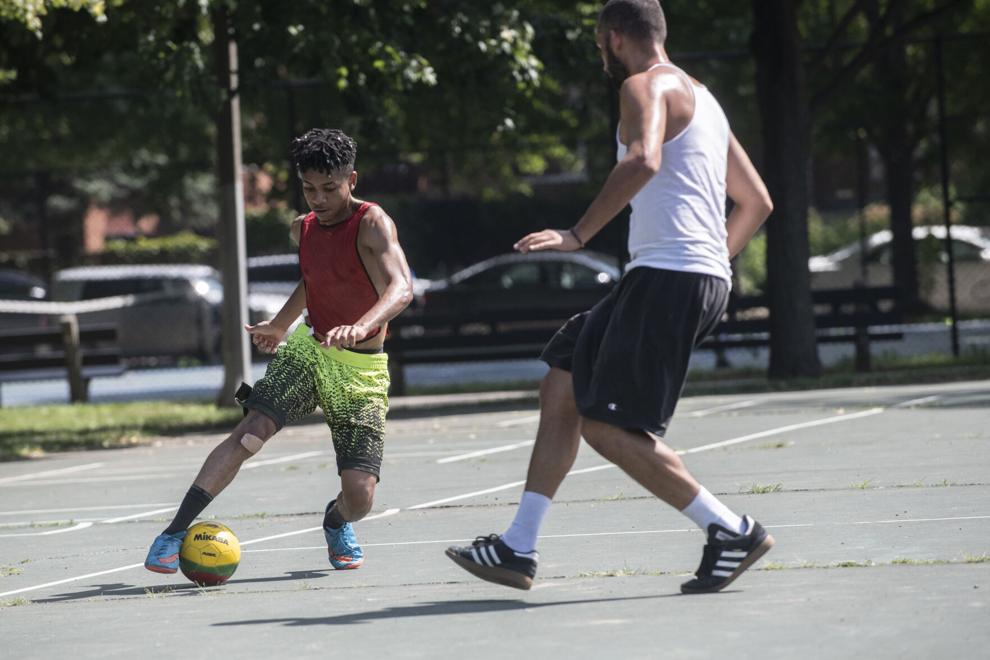 "It carries a very urban essence. It matches the essence, or atmosphere, or aesthetic I was going for," says Murray.
Inspired by Katon Blackburn of Natty Bwoy Bikes and Boards, who gives free skateboard lessons to kids in Kenwood Park every Sunday afternoon, Murray started soccer lessons for children on the 28th.
"We have our youth sessions on Saturday," says Murray. "They're free. We bring out snacks, we bring out popsicles for the kids."
"We work on very basic techniques. It gives them something to take home. We talk about professional players."
"It's important to have Black instructors, especially for sports that don't get a lot of resources in the Black community," says Murray.
Murray is planning to hold additional Urban Football League pick-up street soccer games in Pilsen, Woodlawn and other Chicago neighborhoods. The games will continue to take place every Sunday morning in Kenwood Park for the foreseeable future.
In the long term, Murray would like to partner with professional clubs like the Chicago Fire, Atlanta United or Detroit City. He would also like to "develop satellite developmental academies, you know, within Black and brown communities."
"To the majority of people around the world, soccer is a working poor man's game," he reflects. "I want to let our communities know that as well. It's not a game of affluence. Only here, it's marketed that way."
www.instagram.com/theurbanfootballleague