Alpha Kappa Alpha, founded at Howard University in Washington, has a long history in Hyde Park: the sorority's second chapter was founded at the University of Chicago in 1913, and its headquarters stands today on Stony Island Avenue.
In recent years, members of the sorority — the oldest Greek organization founded by African-American women — have watched with pride as Kamala Harris, a "soror" initiated at Howard, rose through the ranks of California politics to the U.S. Senate, then to the vice presidency.
Someone — the sorority confirmed that it wasn't them — shot off pink-and-green fireworks (the sorority's colors) over the neighborhood on Inauguration Day, when she took the second-highest office in the land.
Alpha Kappa Alpha sorors described their membership in an organization that has been invaluable to their experience of Black womanhood. And that shared membership, beyond race and gender alone, makes Harris's ascent all the more exciting.
Greek life had waned by the time Cook County Board President Toni Preckwinkle matriculated at the U. of C. in the late 1960s, where she was one of a small minority of Black students. 
"We pretty much all knew each other," she said. "About 120 young people on the entire campus, in the College. The neighborhood was more divided than it is now. If you went west of Woodlawn in Hyde Park, there were lots of Black people. But east of Woodlawn, there weren't so many."
Though she said most of her friends at the time were White, Preckwinkle said having Alpha Kappa Alpha as a college student would have been helpful. As it happened, she graduated, became a history teacher, started a family, ascended in politics herself, after four decades, joined the sorority in her 60s, at the behest of a friend. She is in fact a legacy: her mother and aunt, from Preckwinkle's native St. Paul, founded the graduate chapter at the University of Minnesota.
"I mean, this sorority was started at the beginning of the last century," Preckwinkle said. "For people in the Black middle class, fraternal organizations and social clubs were integral, kind of a home place for folks who surely weren't accepted by the larger White society, despite their education and their talents and skills, and who to some extent were separated from other Black folks who might have seen them as uppity."
She pointed to the last line of the Sorority Creed: service to all mankind.
"There's an internal dynamic to the Black community," she said. "There's an internal dynamic to the sorority. And then there's a good work, community service that the sorority does as well outside all these sociological types of things I've been saying."
Carrie Davis joined at Tougaloo College in Jackson, Mississippi, as a 17-year-old in 1962. 
"All of the girls who were doing the rushing were really phenomenal women," she said. "They were women I really looked up to, and I had hoped to be like them. They were great mentors, and they were people I really had great respect for. I was so excited to be asked to join."
She married her senior year, had her first child in Huntsville, Alabama, and moved with her family to Chicago in 1967, after her husband got a job at IBM. Their car, with all their possessions, was stolen upon arrival at 50th Street and Drexel Boulevard, but all Davis cried about was losing her sorority pin, with its 20 pearls.
Having a group of sorors in Chicago when she moved was "like a family," Davis said. "I can go any place in the world, and if there's a chapter, it's like, 'I know these people.'" Because of her husband's job, the family moved frequently, but Davis found that she could make friends wherever she went.
For Ebony Lucas, who joined Alpha Kappa Alpha in law school, the sorority was a godsend when she moved to Chicago from Michigan. Her Theta Omega Chapter, 6220 S. Ingleside Ave., distributes scholarships, runs financial literacy programming and helps with other causes.
Her involvement has continued over the years. When her son was having a difficult adjustment after transferring to Kenwood Academy, Lucas reached out to her soror, Principal Karen Calloway, and she took care of him "like an aunt."
"Even though we're not connected by blood, we're connected by this connection in the sorority," Lucas said. "It really means just connecting with people, having a network that can assist and support you. Being a part of Theta Omega is huge, because we have sorors who are in their 90s, close to 100, who bring so much rich history, because it was a challenge for them when they were in college. They faced a whole different situation than I did when I was in school."
Lucas' mother is also a soror, and she got to celebrate her 50th anniversary in the organization with her. "Just to be a part of that makes you very proud. It makes you very comfortable when you go places. When move to a new city, you know you can reach out to your sorors, and they're going to help you find a place to live, tell you what neighborhoods are good, if you're looking for a job, help you when you're looking for schools," she said. "And we have leaders in every area."
Dana Bozeman is also an Alpha Kappa Alpha legacy; additional family members are members of the other National Pan-Hellenic Council, or "Divine Nine," historically African American collegiate Greek-lettered fraternities and sororities. When the Herald interviewed her on Election Day, she was wearing a pink-and-green face mask. She said other Greek members, organizing online, were making donations to her campaign based on their founding years — $19.13 or $19.11.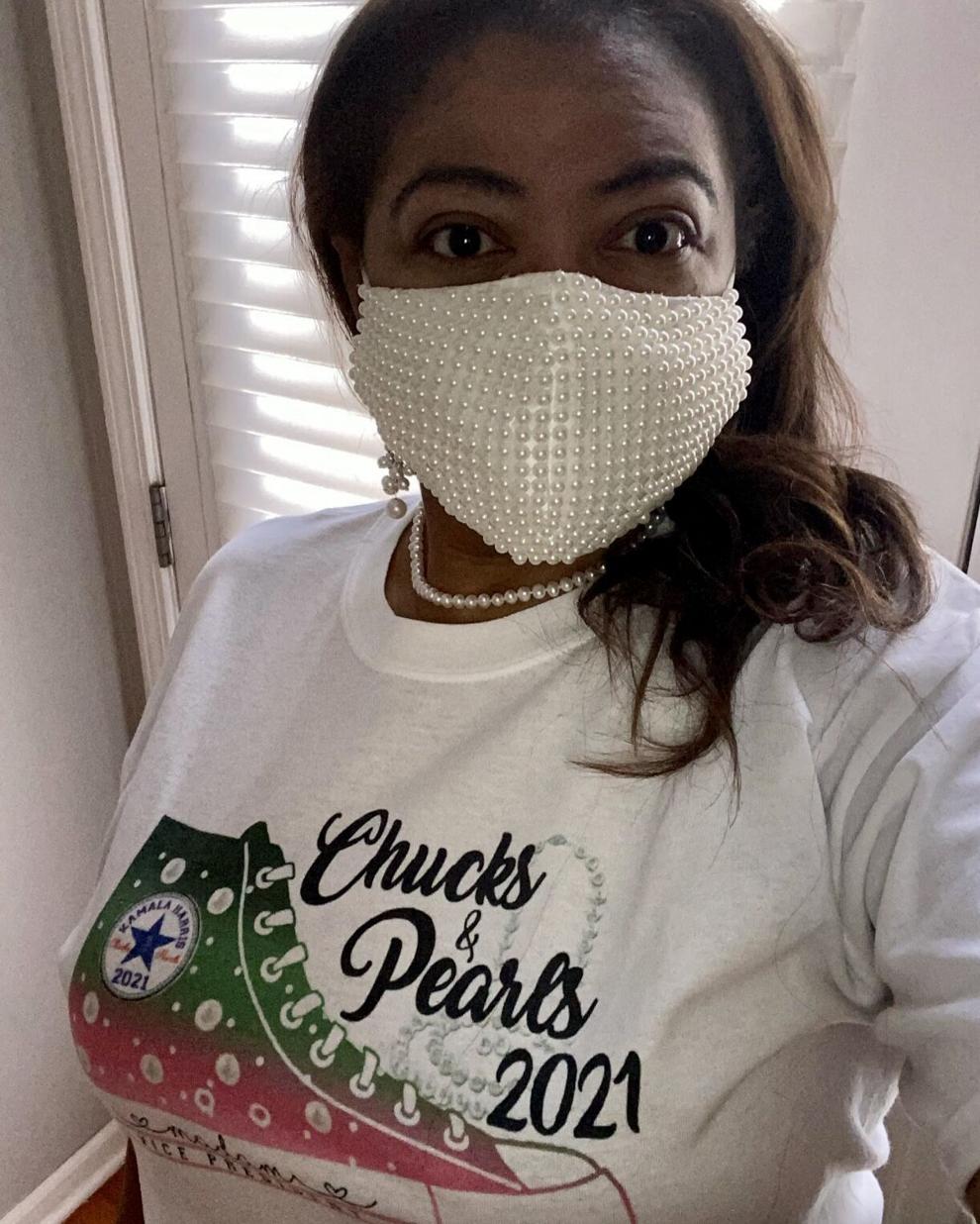 Such organizations "fill a crucial role in supporting people who have been able to make it to that space to that they can lift as they climb," Bozeman said, noting again that Alpha Kappa Alpha is about serving everyone, and that most sorors are members of other service organizations as well. She herself joined after she graduated from college.
"We see our organizations as lifetime organizations," she said. "The pride of connection with my grandmother is really important to me as well as the other women who are part of this organization, whether it's Coretta Scott King or Rosa Parks or Kamala Harris. The connection I feel and the pride and the service and the work that is done by the membership is not confined by one to four years."
Ald. Leslie Hairston (5th), who was president of the Black Students Association as a University of Wisconsin undergraduate, also joined Alpha Kappa Alpha in Madison; the sorors' events appealed to her, she said, as did their commitment to community service.
"You're an Alpha Kappa Alpha member until you die — you're not alumni," Hairston said. Of the vice president: "There is a connection of hundreds and thousands of sisters that she can reach out to for anything that she needs."
Davis is "just ecstatic" that Harris is vice president and that she is recognizing the sorority's support in her public life.
"I am just so proud of her and proud of the fact that she is proud to be a part of Alpha Kappa Alpha sorority," Davis said. "We're all on that journey, and you're connected with people on that journey too."