"I am four and a half," said Andi as she sat with her 2-year-old sister Rylan and their mother, Kaitlyn Ward, at a low table in the natural light-filled lobby of the Smart Museum of Art. It was a Saturday afternoon and a dozen or so children were making cardboard cameras.
Andi, Rylan and the other kids colored, cut and pasted with focus, periodically looking up to get help from a parent. The toy cameras roughly resembled big 35mm film cameras and fit neatly into two small hands.
The activity was inspired by Smart's recently opened exhibit of photographic prints, reprints, books, magazines, posters and other materials, "not all realisms: photography, Africa, and the long 1960s." The exhibit was curated by Leslie M. Wilson of the Art Institute of Chicago with Berit Ness of the Smart Museum and comprises works made by African photographers Ernest Cole, Malick Sidibé, James Barnor, Peter Magubane, Seydou Keïta and artists Njideka Akunyili Crosby and Sam Nhlengethwa. It also includes photographs by Paul Strand and Henri Cartier-Bresson and a collage by Romare Bearden. 
Erik Peterson, the Smart Museum manager of family programs and student engagement, said the idea behind the camera making activity was to get the kids to "take pictures" of their family and friends so that they would learn about traditional cameras and how those devices frame the world. Hopefully, he added, the children would view the images in the exhibition in a different way and understand them beyond their historicity, perhaps even as "very contemporary."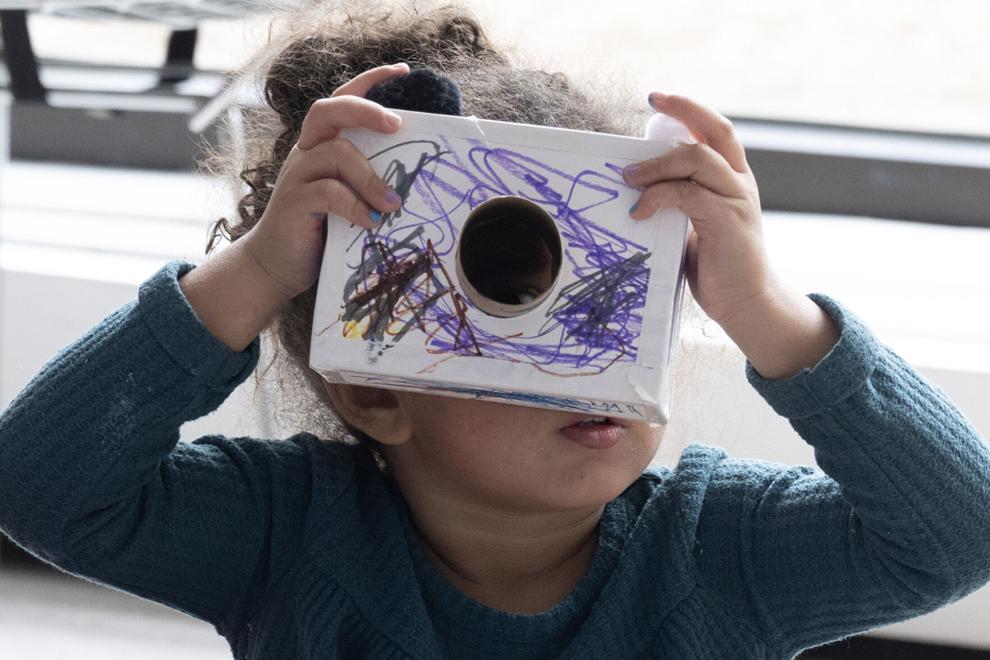 The exhibit was meant to run in 2020 but the pandemic made pulling together the show so difficult that for a while it was canceled. "It was really through the tenacity of Leslie and the folks here at the Smart Museum that this show got to happen at all," said Peterson.
After the children had made substantial progress on their toy cameras, Peterson introduced them to Megan McFarlane of the Chicago Public Library's live reading programs, who read several books, including "The Me I Choose to Be" and "Not a Box." 
"The Me I Choose To Be" was written by Natasha Anastasia Tarpley and features photographs of kids in fanciful costumes by Regis and Kahran Bethencourt. "Not A Box" was written and illustrated by Antoinette Price. Both books ask children to stretch their imaginations and explore the possibilities of whom they can become.
"Not all realisms: photography, Africa, and the long 1960s," fills several large interconnected gallery spaces in the museum.
In her introduction to the exhibit, curator Wilson writes, "For many parts of Africa, to refer to the 1960s is to gesture broadly toward a time of great transformation: the postcolonial turn … That era of sweeping change is bound up in a chain of events long preceding that watershed decade, with ramifications that reach potently into our present."
As one enters the exhibition's first gallery space, a large oil and collage cityscape hanging at the far end of the room immediately catches the eye. The work is "Inspired by Romare Bearden and Ernest Cole (2018)" by South African artist Sam Nhlengethwa.
In her description of Nhlengethwa's piece, Natacha Nsabimana, a University of Chicago assistant professor of anthropology, reflects on the headline of The Citizen newspaper found in the lower right corner of the work: "Now What?" "This is the perennial postcolonial question in South Africa and beyond," Nsabimana writes.  "Is liberation still the project? What is it? Is it ever finished?"
As Andi and Rylan entered the gallery, they paused from their dance and play to look at Nhlengethwa's piece. As Rylan stood quietly by, Andi lifted her cardboard camera and took a picture.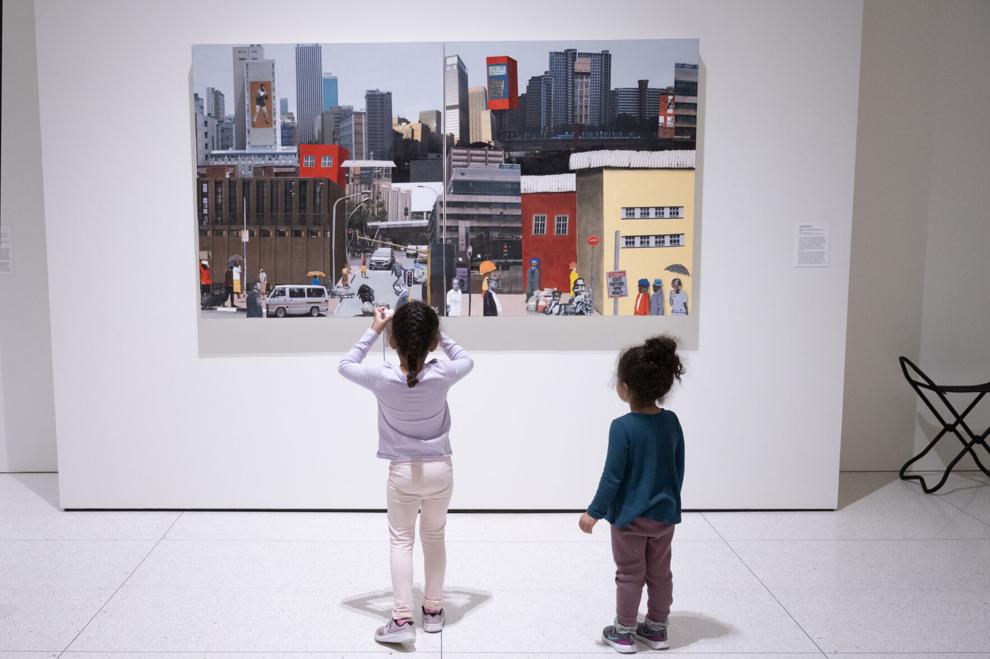 "not all realisms: photography, Africa, and the long 1960" will be at the Smart Museum of Art, 5550 S. Greenwood Ave., through June 4. Directions for building a cardboard camera toy can be seen here.