"It Came From Outer Space"
You don't have to be a fan of the 1953 sci-fi film "It Came from Outer Space" to get a kick out of the world premiere of the eponymous musical at Upstairs at Chicago Shakespeare, but a passing familiarity with the cult classic probably helps. 
Based on a story treatment by Ray Bradbury, it was the first 3D feature from Universal Pictures and the first Hollywood movie with aliens that bore no malice towards humans and weren't interested in taking over the planet. Their spaceship merely crashed due to a malfunction and they just want to repair it to get home.
The new musical by Joe Kinosian (book and music) and Kellen Blair (book and lyrics), who also were responsible for 2011's "Murder for Two,"  plays with these tropes and more. 
The absurdity arguably starts with the notion of applying 3D technology to live theater which is inherently three-dimensional. Scott Davis' scenic design showcases two-dimensional cutouts of cacti and other desert ephemera, while instructions to put on our 3D glasses "NOW" occasionally flash on the back wall. 
Heather Sparling's atmospheric lighting design gets a boost from projections by Rasean Davonté Johnson and Michael Salvatore Commendatore, including an annotated starry night for the eerie opening (and closing) number "We Are Out There." Mieka van der Ploeg's costumes have humorous touches for the humans and peak with the get-ups for the one-eyed extraterrestrials. The overall feel (with the wires showing) is the equivalent of cheesy cinema special effects, though the stage at times seems too small to contain it all.
Limiting the cast to six actors may also seem confining, but director Laura Braza and her ensemble make a virtue of necessity with clever doubling. Alex Goodrich, Ann Delaney, Sharriese Y. Hamilton and Jonathan Butler-Duplessis all play multiple residents of the town of Sand Rock, Arizona, as well as the aliens, often with split-second costume changes. Butler-Duplessis is especially hilarious as Coral in a bar scene highlighting one of the best songs, "I Can't Figure Out Men."
Musing on the mysteries of the male sex with Coral are alien Grommulex (Hamilton) and school teacher Ellen Fields (Jaye Ladymore), our heroine. She and astronomer John Putnam (Christopher Kale Jones) try to learn more about the aliens, though he takes most of the credit and repeatedly reminds everyone he's from the big city, which may be why their romance doesn't take off like it should.
Certainly, the second-class status of women in the 1950s weaves through "It Came from Outer Space." Even stronger— in keeping with the film— is the human tendency to fear, revile and destroy the unknown, coupled with an admonition to be kind instead. 
The sentiments come through in the songs, among them "Prepare Yourselves," "Ain't Nothin' Like a Desert," "If the Humans Only Knew," "Fitting In Perfectly" and "Focus on That." You probably won't leave the theater humming any of the melodies, but under Tom Vendafreddo's musical direction, with sound design by Nicholas Pope, they're performed well by the cast and the four-person orchestra—Kevin Reeks, Dave Victor, Sean McNeely and David Orlicz (all of whom play multiple instruments). Thanks also goes to Macy Schmidt's orchestrations and Ethan Deppe's electronic music design.
I don't know what kind of future is in store for "It Came from Outer Space," but at the moment, it's ideal for an enjoyable night out on Navy Pier.
Upstairs at Chicago Shakespeare, Navy Pier. Through July 31. $50-$80. 312-595-5600, chicagoshakes.com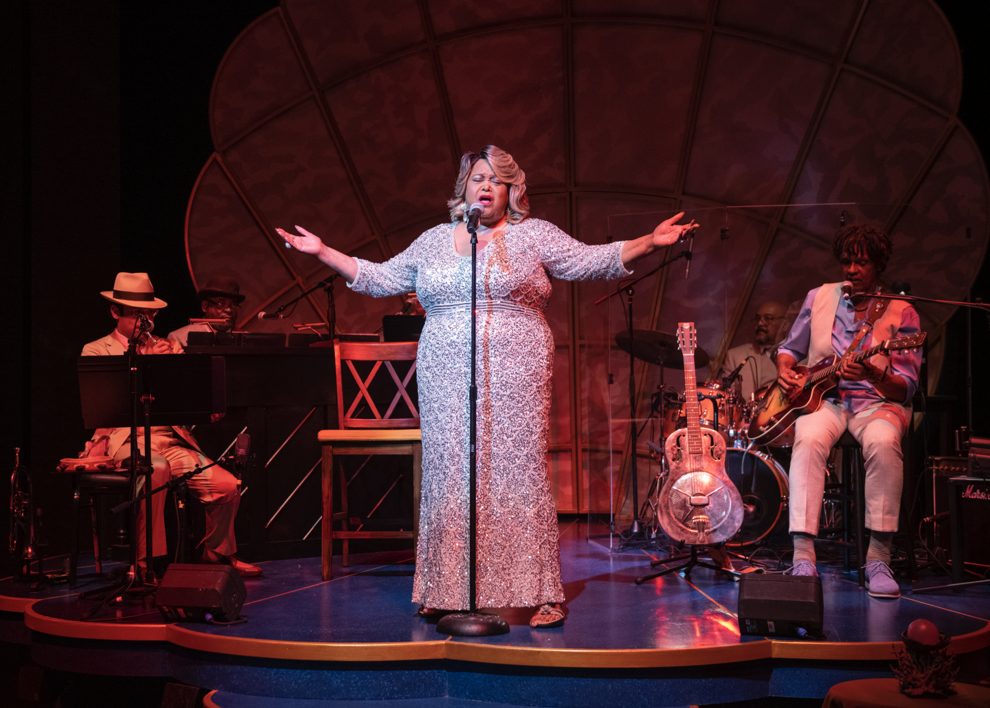 "Pearl's Rollin' with the Blues: A Night with Felicia P. Fields"
Felicia P. Fields has made magic with her blues singing in many musicals and revues, but with the world premiere of "Pearl's Rollin'  with the Blues: A Night with Felicia P. Fields" at Writers Theatre, she really outdoes herself. 
Created by Fields and director Ron OJ Parson, the show combines  her personal playlist, anecdotes from her life often tied to the songs and schmoozing with the audience for an ideal date night out (it's also called "Pearl's" for Fields' middle name). Add a terrific five-person band led by music director and guitarist Chic Street Man, with Ricardo Jimenez on horn and harp, conductor Frank Menzies on keyboard, Julie Poncé on bass and Harold Morrison on drums, and it has all of the advantages of the best blues acts without any of the drawbacks (like packed, smoky clubs). Credit also goes to Eric Backus' fine sound design.
Scenic designer Jack Magaw and lighting designer Jared Gooding have cannily transformed Writers' larger theater into a chic art deco boite, with a scallop shell motif and a runway extending from the main part of the stage (occupied by the band) to a smaller platform. Cafe tables line the runway, and if you're seated at one of them, you are more than likely to get some personal attention from Fields. Her long sequined silver gown is by costume designer Rueben Echoles, and she even has a little dressing area next to the stage where she occasionally takes a rest.  
The nicely varied evening starts off traditionally with "Wang Dang Doodle" and includes many blues favorites laced with sexy double meanings, among them "Rough and Ready Man" and "My Stove's in Good Condition." There also are compositions by Chic Street Man, who sings seven of the 21 numbers and demonstrates the steel guitar, among other things.
Gospel gets its moment and some commentary on its relationship to the blues. And while the overall tone is light, a serious plea for tolerance comes in Chic Street Man's "Beautiful" and Fields' "Skin Deep," which reminds us that we're all the same under the skin.
If I could change anything about "Pearl's Rollin' with the Blues," I'd add another song or two for the steel guitar and more harmonica playing from the immensely talented Jimenez. Then again, with a show this good, there's nothing wrong with leaving the audience wanting more.
Writers Nichols Theatre, 325 Tudor Court, Glencoe. Through July 24. $30-$90. 847-242-6000, writerstheatre.org