The multi-site "Toward Common Cause" exhibition drew to a close this weekend, as the Rebuild Foundation hosted "Mirrors and Misconceptions," a two-day event at the Stony Island Arts Bank put on in partnership with Court Theatre.
The activation at the South Side nonprofit featured poetry readings, gallery talks, collage activities and extended hours to view "Toward Common Cause" during its last weekend.
The exhibit celebrated the 40th anniversary of the MacArthur Fellows Program; 29 MacArthur fellows had their work featured in a multi-venue exhibition throughout the year. The works featured at the Stony Island Arts Bank reflected on identity and representation. 
Friday night's live poetry reading was inspired by Black lives, misconceptions, mirrors, and the moon, and was programmed to take place during the full moon on Dec. 17.
The live reading was hosted by Nicole Bond, who works on the University of Chicago's campus as lead museum educator at the Smart Museum of Art and as a teaching artist and special projects liaison at Court Theatre. 
Bond, whose practice fuses fine art with theatre, was a graceful MC throughout the night, offering original poems from herself and works from renowned poets such as Gwendolyn Brooks and the late bell hooks.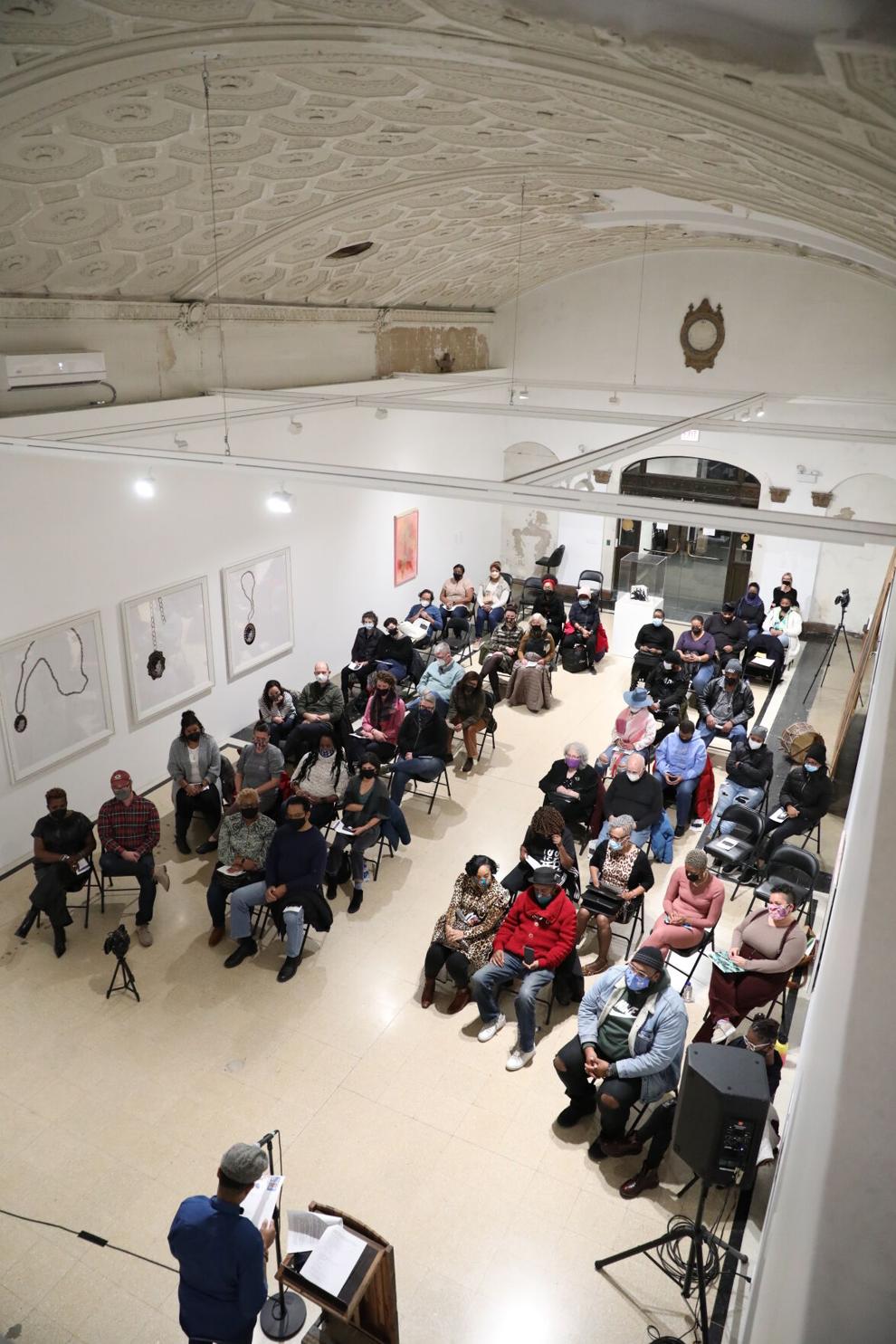 "I learned that part of the 'Toward Common Cause' exhibition was asking the viewers to contemplate what we mean when we say the commons. When we talk about those shared resources of air, land, water, culture, I like to add in labor to that as well because that is definitely a shared resource," said Bond.
The poets each performed in front of Fred Wilson's Murano glass sculpture, "Act V. Scene II Exeunt Omnes" (It's named after the final stage direction in Shakespeare's "Othello.") Wilson, who received the MacArthur Achievement Award in 1999, is an installation artist who explores the relationship between museums, works of art and other collections.
"When we think about Shakespeare's Othello, you can take that in a lot of different ways. I got the idea to think about mirrors and misconceptions. Many people think that the characters mirror each other," said Bond, on coming up for the theme of the night. "But the story itself is based on one big giant misconception. So I thought, wouldn't it be cool if we got people in the space in front of Fred Wilson's amazing sculpture, just to unpack that idea of mirrors, misconception, the moon, and then I thought, who better to unpack complex issues than poets."
The night featured poems from performers of unique and extensive backgrounds. 
Playwright, director, poet, and acting coach Runako Jahi was one of the most animated performers of the evening, as he executed his poems in various dialects, showing off his skills as an actor. 
Jahi's pieces focused on family structure from the point of view of many people, including a fetus who was excited to see the world outside of his mother's belly. Jahi has been actively involved in the theater scene since 1972, and his resume includes a stint as the Artistic Director of the Create Arts Foundation from 1990-2014 and coaching native Chicagoan Jennifer Hudson on her audition for the film "Dreamgirls." 
Rachel "Raych" Jackson, who is a writer, educator, and performer offered pieces that were odes to her experience growing up as a Black girl in Chicago.
In what seemed to be a crowd favorite, Jackson performed a piece about the parking lot in the back of a church she grew up attending. She detailed the many games she learned to play, the fights she got into, and even learning about sexual intercourse while playing in the parking lot of the old church.
Other performers included facilitator and poet Rebecca Brown; performing and visual artist Tarnynon Onumonu; and emerging writer, historian, and filmmaker Reginald J. Rice.