Editor's note (2/11/21): 
After this story was published, the Herald learned that the author is married to Thomas Wikman, the founder of Music of the Baroque.  
The writer of the article told the Herald that she had intended to include a disclosure statement with her initial draft, and that its omission was inadvertent. Nevertheless, this undisclosed conflict of interest constitutes a serious violation of the paper's ethical principles and undermines the credibility of the article. We would not have published the story in its current form if we had been aware of this fact prior to publication. 
Upon review, the Herald has found no inaccuracies in the article. While the reader should be aware of the conflict of interest described above, the story will remain online. We regret the omission.
If you poke around enough Hyde Park alleys, you will discover a network of naturally occurring micro-recycling centers. They sprout near the trash bins, as residents clean house, identify unneeded objects, and think, "Someone must want this." 
The object goes on display and, together with castoffs from neighboring apartments, becomes a sort of sidewalk sale without the sidewalk. A pair of stiletto heels. A faded wool blanket. Books. A guitar case. A printer with a note stuck on it: "Works." 
For passersby, it can become a game to see the objects come and go. Stop to photograph that pair of chairs for your friend who's moving. Grab the old lamp that's perfect for the set of your play. Marvel that someone actually took that 1990s skirt suit. What no one takes gets scooped up by the garbage trucks at week's end. 
One day in November there appeared a new mystery: Two big stacks of wine boxes sealed up tight and labeled "Recordings." 
Within a couple of days, some curious soul had cut a box open and pulled out a sample of the contents: ribbons of magnetic tape, spooled on 12-inch reels. It was the kind of tape used half a century ago on huge mainframe computers, and for sound recordings. 
What was on the tapes? Was this found treasure? Notes popped up in email inboxes and on neighborhood message boards. Becca Hall, an archivist with the Chicago Film Society, received texts from several neighbors. She relayed the info to Allison Schein Holmes at WFMT, the classical radio station. Allison wrote to Judy Mintel, a sound engineer she knew in Hyde Park. 
Judy laughed and said, "That must be Tom Wikman getting rid of the backup tapes." 
Where were the other copies? 
The other copies — some 350 hours of live concert recordings — were in a truck bound for the Library of Congress, where they have expanded a national collection documenting important classical music performances across the country. 
Judy Mintel's contribution consisted almost entirely of concerts recorded by her and her late husband, Dick, and led by their good friend, Tom Wikman, a local church choirmaster who in 1971 founded a concert organization called Music of the Baroque. Wikman guided MOB to international fame, giving up to 40 concerts a year at the peak, amassing dozens of adulatory reviews and thousands of fans. Most concerts were given in Chicago churches, but the group also performed at Lincoln Center and, by invitation, at both the White House and the Library of Congress. 
Dick Mintel was in on the enterprise from Day One — along with Judy King, the University of Chicago law student who would soon become his wife. (Friends would one day toast Judy's authorship of "Insurance Rate Litigation," an industry bible.)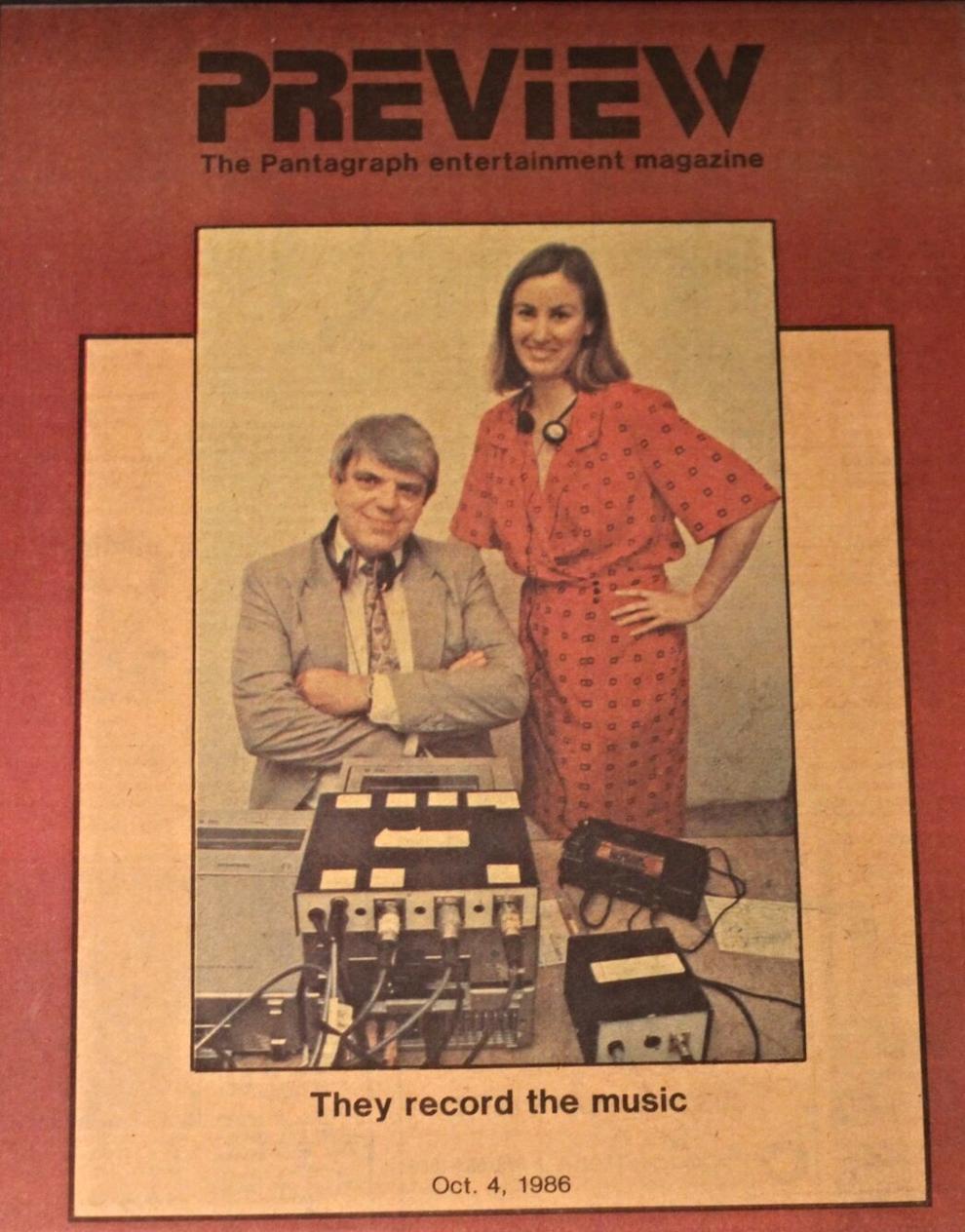 Dick, a U. of C. biochemist with a famously adventurous spirit, had run into Wikman several years earlier. The two bonded instantly over their mutual enthusiasm for music —particularly organ music. The "wondrous machine," as G.F. Handel memorialized it in his "Ode to St. Cecilia," was Wikman's main instrument, and Mintel was taking lessons at Rockefeller Chapel with Wikman's colleague, Ed Mondello. 
Like Wikman, Dick was fascinated not only by the "wondrous machine" itself, but also by the church acoustics that completed the sonic experience. The best organ in the world would sound pallid if placed in an unfavorable environment, while an optimal acoustical space could make even a ho-hum organ sound impressive. Moreover, Dick wanted to preserve great concerts in a way that would transmit their full impact to future listeners. Most recordings, he noticed, failed to achieve this. That quest became a lifelong obsession. Fellow recording engineers and musicians alike agree that he succeeded. 
"This is a very significant collection, for a number of reasons," said WFMT disc jockey Peter van de Graaff. "The breadth of repertoire — recorded live by a single ensemble — is unequaled. As to the quality of the performances and the engineering, you could put this collection up against anything in the world that's ever been made." 
Back in the early '70s, all this fuss was new to Judy. "I had really never listened to classical music before," she said, recalling the day of her conversion. Dick had been recording a rehearsal of Bach's "St. Matthew Passion," and Judy was to pick him up afterward.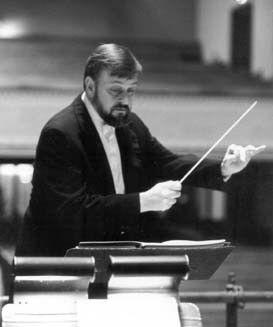 "I was hungry and out of sorts. The rehearsal should have been over, but I saw the mics were still up." Judy was "as irritated as could be" as she sat in a pew to wait while a small group — including future Metropolitan Opera star Isola Jones — rehearsed the aria Erbarme dich. "By the time it was over, I was hooked. I must have replayed it 100 times that night." 
For Wikman, being able to hear a first-rate recording after each rehearsal was an unbelievable boon. "My God! It was an enormous advantage that conductors rarely have." With the insight gleaned from the Mintel tapes, he was able to lift the ensemble to higher standards than would otherwise have been possible. 
The church at 53rd & Blackstone
Hyde Park's Church of St. Paul & the Redeemer, where MOB was born, had a small capacity. As the concerts gained popularity, a bigger space was required. The United Church of Hyde Park, at 53rd and Blackstone, would become MOB's headquarters for decades. As the venue for both concerts and rehearsals, it was handy for Wikman, who lived nearby. Handy, too, for the church: The arrangement provided significant revenue for a small congregation trying to maintain a large, vintage building. 
The Blackstone church accommodated twice as many listeners, but that didn't suffice for long. Wikman, who had been scouting Chicago churches for years, soon had the opportunity to repeat each concert in a space selected for its superb acoustics. By 1981, there were four or five church venues for each of the five programs in MOB's main series. 
For Dick Mintel, that meant hauling around some major tonnage. In the early years, he brought two monster reel-to-reel machines, in case one should fail. He brought top-drawer mics, and two mic stands that could reach up to 25 feet high. "It was a lot of slogging," said Wikman. 
Judy often helped slog. But as she got busy with lawyering, Dick made the commutes on his own. Even moving to Baltimore didn't make any difference. During the years when Dick taught at Johns Hopkins (while Judy regulated insurance companies for the State of Virginia), Dick still showed up for every single MOB concert or rehearsal. "He didn't trust the airlines with his gear," recalled Wikman, "so he would just pack it all into his car and drive here. He was unstoppable." 
The blessings of technology
Dick and Judy saw Wikman through 30 years of leading MOB, preserving every rehearsal and performance. They transitioned from magnetic tape reels to a series of digital formats: beta videocassettes, then DATs, and finally CDs and digital wav files. Seventy pounds of equipment gave way to a laptop. 
In 1984, Wikman became choirmaster of Church of the Ascension, 1133 N. LaSalle. The Mintels came along, recording myriad church services featuring an all-professional choir of 17. Since many of the same musicians were involved, the two ensembles created a synergy that further boosted the quality of their work. 
MOB was quiet in summertime, while Wikman plotted the next season. So when some of their musician friends began performing regularly at the Grand Teton Music Festival, the Mintels got onboard. Dick became the official recording engineer for the summer festival, adding a new collection of live recordings to what would become the Mintel Archive.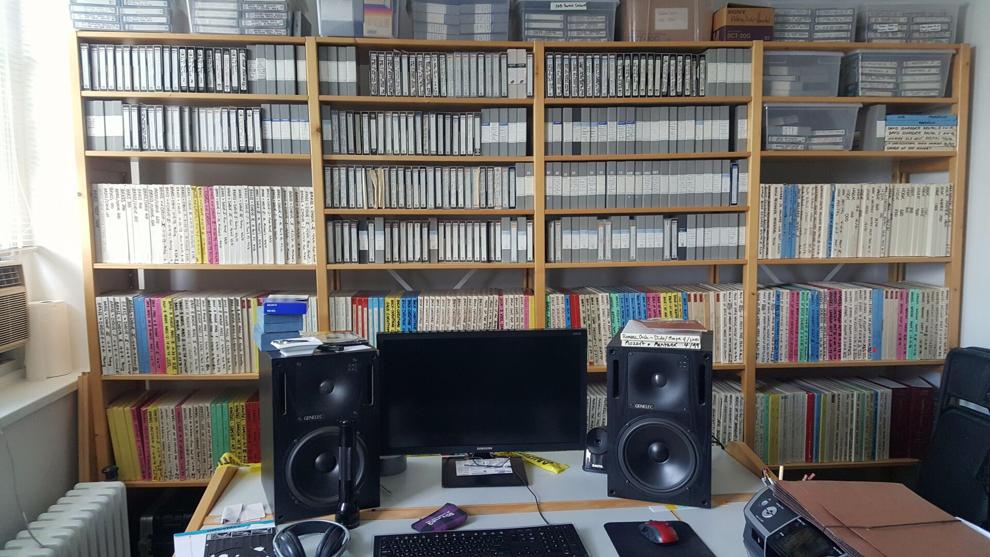 Dick passed away in 2014, prompting Judy to pick up the task of preserving and cataloguing their joint endeavor. The task was formidable: Hundreds of hours of live recordings in multiple formats, including decades-old magnetic tape that might crumble to dust at any moment. Transferring all of that to current formats; fixing glitches in the transfers; editing and cataloguing — each step required hours of painstaking labor. At a minimum, Judy estimates she spent 1,500 hours on the project. 
Gregarious Dick would never have taken on a job like that: Both Wikman and Judy are sure of it. "Archiving is a very solitary activity," Judy observed. "Recording a concert," on the other hand, "is very social. You're like a part of the ensemble." 
When the six-year endeavor was finally complete, Judy began searching for a home for the magnum opus. Musicians at Northwestern University were salivating over the collection, so she offered the archive to the school's music library. The school eagerly accepted. 
It was not the first time Judy had sought a more universal audience for the captured concerts. She spearheaded an effort to get some of them syndicated internationally in 13-week radio series. Normally, syndication requires serious upfront money from a corporate sponsor. But WFMT took a chance and sponsored the first season itself.
The response was explosive: Fan mail poured in from across the U.S. and overseas. And in WFMT's annual survey of station managers who purchased the programs, MOB was rated more highly than any competitor, including the symphony orchestras of Chicago, Philadelphia and San Francisco. 
The donation fills a significant gap in the Library of Congress collection. Until now, New York and Los Angeles were "certainly better represented," LOC sound curator Matthew Barton told Block Club Chicago in November.
Neither the Library of Congress nor Northwestern has yet made the archive publicly available online. But Judy has posted a wealth of samples on her website, mintel.org. They are free to stream and download, along with the original concert programs. (And if you're already missing Christmas, try mintel.org/music-samples/christmas-music-for-choir).