"The Notebook" 
When I went to the world premiere of the musical "The Notebook" at The Yard at Chicago Shakespeare (located in Navy Pier), I didn't know what to expect. I hadn't read the best-selling 1996 novel by Nicholas Sparks and had only vague memories of the 2004 film, which starred Ryan Gosling and Rachel McAdams as young lovers Noah and Allie.
All I knew about the new production was that the music and lyrics were by multi-platinum folk-pop singer-songwriter Ingrid Michaelson and the book was by playwright Bekah Brunstetter (writer and producer on NBC's "This Is Us.") Co-directors  Michael Greif and Schele Williams had plenty of Broadway and Off-Broadway credits, and the rest of the team sounded very accomplished, too.
I'd also heard that the roles of Noah and Allie each were played by three different actors at successive stages in the characters' lives, which really piqued my interest. So, a couple of days after seeing the show, I watched the movie again. 
The wily creators of the musical have almost totally transformed the focus and intent of the material while keeping the same basic plot. 
The film follows the romance of Noah and Allie chronologically. At 17, they fall in love one summer but are separated by her wealthy parents who disapprove of his working in a lumber yard. Allie's sent off to college. Years later, she sees an article about Noah completing their dream house just as she's about to marry someone else. Compelled to visit him, she learns that her mother had withheld the letters he'd written her every day for a year, leading her to believe he no longer loved her. After a steamy reunion — and famous love scene in the rain —  Allie has to decide whether to stay with Noah or return to her fiancé, Lon. 
This story unfolds essentially as a flashback because an older Noah is reading it to an older Allie from a notebook she wrote decades prior. She now has dementia, and he hopes the story will bring her back to him. The outcome is a sweet-sad tearjerker and sentimental tribute to the power of enduring love, especially since we get such a vivid idea of what the younger Noah and Allie were like.   
The musical lacks that specificity and instead the Noahs and Allies come across as archetypes of lovers at various stages. This is especially true  because Younger Allie (Jordan Tyson) and Middle Allie (Joy Woods) are Black while Older Allie (Maryann Plunkett) is white, and Younger Noah (John Cardoza) and Middle Noah (Ryan Vasquez) are white while Older Noah (Jerome Harmann-Hardeman) is Black.
Events don't unspool chronologically, either. Sometimes they are simply out of order, as the notebook is taken up and put down at different places in the account. At other times, things happen simultaneously. More often than not, the songs involve the various Noahs and Allies in conversations with each other reflecting on the course of their lives. 
The Younger and Middle Noahs and Allies join forces for several songs, among them "Kiss Me," "Home," "We Have to Try," "Forever" and "Not the One to Run Away." All three Noahs sing "Iron on the Fridge," and Younger Allie and Middle Allie get most of the solos.
Much of the music is lush and beautiful, and credit goes to music supervisor, co-arranger and co-orchestrator Carmel Dean, co-orchestrator John Clancy and music director Geoffrey Ko, as well as the excellent onstage orchestra. After a while, though, the songs started to sound pretty much the same and, by the end, I couldn't recall a single melody.
The issues of old age get a lot more attention than in the movie, and the standout performance comes from Plunkett as Older Allie, who embodies the confusion, frustration and anger of dementia better than anyone I've seen. There's also a dose of comic relief from physical therapist Justin (Liam Oh) who tries to treat an unwilling Older Noah's bum knee and ends up sneaking peeks at the notebook instead.
All the performances are strong, as are scenic design by David Zinn and Brett J. Banakis, the costume design by Paloma Young, the lighting design by Ben Stanton and the sound design by Nevin Steinberg. Katie Spelman's choreography is limited but essential given the fluidity of the scene changes.
Still, I don't know if  the considerable merits of "The Notebook" are enough to make it a hit on Broadway, where it is presumably headed. The movie's main selling point is its extreme romanticism — sappy, some might say — and that has been replaced by a more thoughtful, philosophical approach.
The Yard at Chicago Shakespeare, Navy Pier.Through Oct. 30, $45-$125, 
312-595-5600, chicagoshakes.com.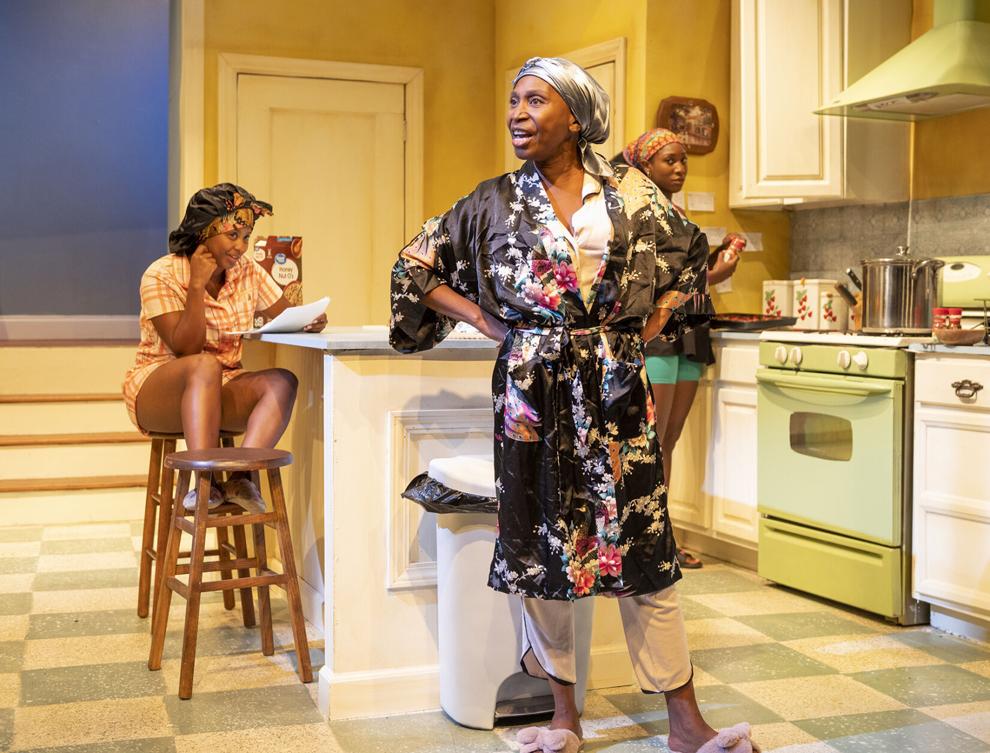 "STEW"
Three generations of Tucker women gather in a well-worn kitchen to prepare the special one-pot meal for an annual church function in the Chicago premiere of Zora Howard's "STEW" at Shattered Globe Theatre, but by the end of  90 minutes, we suspect this isn't exactly the kitchen sink dramedy we expected. 
The time is somewhere around the most recent millennium. The place: Mt. Vernon, New York, or a neighborhood like it. The play starts with Mama (Velma Austin) alone in the kitchen in the morning stirring a big pot until she's distracted by a loud noise — could be a shot or tire blowing out —  and lets the stew burn.  As she starts from scratch again, her daughters and granddaughter rush in to see what's happening and to help with the preparations.
The bickering, rivalries, screaming arguments and emotional chaos that followed conjured a family from Hell for me, but others in the audience clearly recognized people and situations from their own lives.  Under Malkia Stampley's briskly paced direction, it's easy to see why as the actors deftly confront, contradict and contend with each other, talking and yelling at the top of their lungs, often at the same time. Only when their secrets have boiled over do they simmer down for quieter moments of reflection and even connection.
Mama rules the roost, and Austin gives a riveting performance as the matriarch who brooks no disobedience and is determined to have her way. Keeping a watchful eye on her is Lillian (Jazzma Pryor), her 30-something daughter. She is worried that Mama is slipping mentally and has temporarily moved back into the family home with her adolescent daughter,  Lil' Mama (Demetra Dee). Rounding out the quartet is Mama's 17-year-old daughter Nelly (Jasmine Cheri Rush) who is as irresponsible as Lillian (the oldest daughter) is inclined to carry the weight of the world on her shoulders even though no one asked her to.
We never see the men in the lives of these women, even though they exert a profound influence and we hear plenty about them. Nelly bristles when Lillian refers to her "boyfriend," responding that he's her "man" — the only one for her. The reason for this soon becomes apparent, and Nelly fears Mama will find out. Lillian also is afraid of Mama's interference because her marriage is on the rocks, which explains why he doesn't show up, much to the dismay of his daughter Lil' Mama. And Lil' Mama's brother Junior? Everyone wonders why he hasn't gotten home yet.
Lil' Mama wants her dad's help because she's auditioning for the role of Queen Elizabeth in her school production of "Richard III." Instead, she gets contradictory advice and directions from Nelly, Lillian and most of all Mama, who reminds them more than once that she is "founder and director emeritus of the Mt. Vernon High Dramatic League as well as the first soloist at the Greater Centennial A.M.E. Zion Church, lead pastor Reverend Winston Rice, for the past 15 years." 
Lil' Mama balks at everyone telling her what to do — Dee's frustration is palpable — but when Mama stands on the stair landing and quietly delivers Queen Elizabeth's speech grieving the loss of her son, lesser concerns fade into the background.
The mix of realism and surrealism makes "STEW," which was a Pulitzer Prize finalist, a bit disconcerting. It carries over to Sotirios Livaditis' scenic design, a meticulously detailed middle-class kitchen except for strings of tiny Italian Christmas tree lights that come on during scene changes. The rest of Levi Wilkins' lighting design is a little odd, while Austin Winter's costumes reflect each character's idea of homey comfort right down to the fuzzy slippers.
"STEW" is worth seeing for the strong performances and Howard's insights into how people behave and interact, but I'm not sure the symbolic direction in which she takes the play is necessary. And if it is, maybe it should be clearer.
Shattered Globe Theatre at Theater Wit, 1229 W Belmont Ave. Through Oct. 22, $25-$45. 773-975-8150, sgtheatre.org, proof of vax and masks required.