Frontline Books and Crafts, the Rastafari and Pan-African shop just off 53rd Street that has been a longtime community space and a persistent advocate for local Chicago authors, is in danger of closing its doors if the business cannot raise tens of thousands of dollars in the near future. 
"Because of the pandemic, we're not getting a lot of traffic because other people are not out in the world. So that's the problem: If people don't come and spend money, you don't have money to buy back stock, you don't have money to buy stuff or pay your expenses, (you don't have enough to pay) the biggest expenses, your rent, and wages," said Sekou Tafari, owner of Frontline, 5206 S. Harper Ave.
Frontline has been operating its Hyde Park location since 2004. There are two other Frontline shops in Evanston and 63rd and Cottage Grove, but the Hyde Park location is the only one that could close.
Tafari explained that bookstores, in general, have always been a place for Black people to gather and find community. "We believe that all Black bookstores really serve the community because it's like a community library, where people can come buy a book and if they don't have money for a book they can come sit down and read."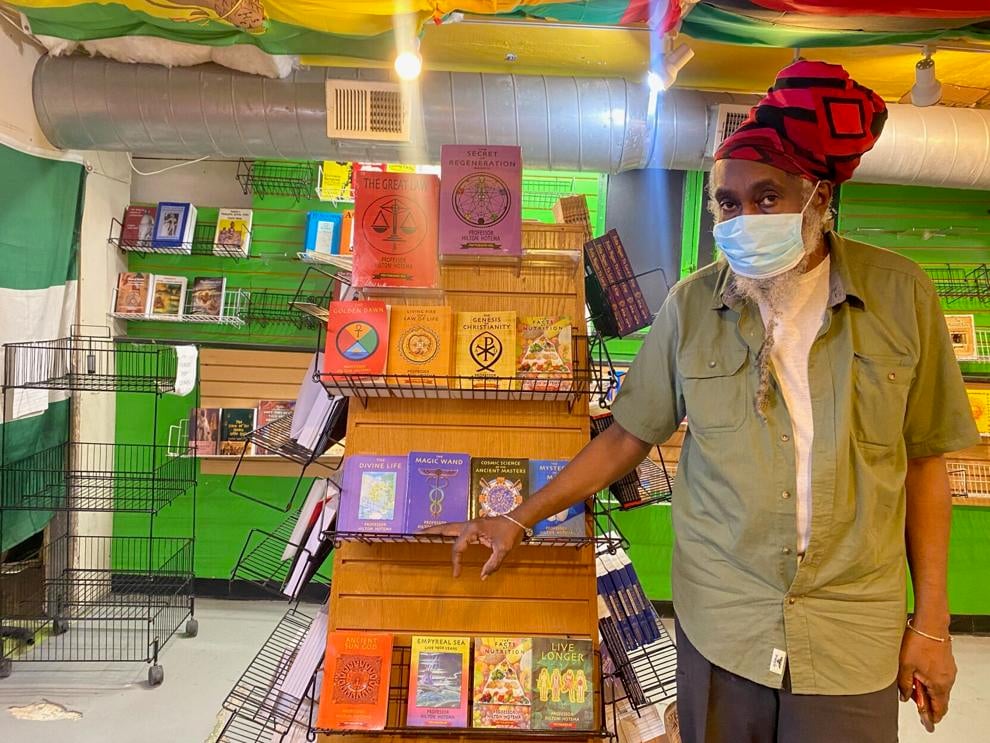 Describing his life as a teenager growing up in the 1960s in the Caribbean, Tafari said that the bookstores he frequented allowed him to read for weeks — he'd fall in love with those books and still come in and buy them. 
During his time in England, Tafari saw how community bookstores acted as safe spaces for the Black community. "When the National Front — equivalent to the KKK here — would attack the Black people, the people would galvanize themselves in the bookstore," he said. "It's where they would come and meet and discuss things."
Frontline hosted book signings and poetry slams before the pandemic. It also acted as a publishing house, putting out books from a variety of local authors. 
One of those authors, Abolade Tayo, has known Tafari for over 50 years — the two met in their home country of Trinidad. Tayo says that Frontline's impact has been huge, especially for Black writers, "Sometimes it's hard,  like some of these companies, they want a whole bunch of money upfront and all this kind of stuff, you know, and Frontline kinda waived that."
Tayo, who has written over 26 books, is currently selling "A Taste of Mama Nature" at Frontline.
Earlier this year, Tayo connected another local author, Janet Good, with Tafari. Good came to Chicago in 1974, receiving her Master's in social work at Chicago State University. She writes books mostly aimed at school-aged children, teaching lessons about empowerment and how to be a good student. 
Good says she is thankful for the opportunity that Frontline has graced her with, "(Frontline) has been a pillar in the community for many decades and to have them as another platform to showcase my books, that to me is like a unique social experience." 
Tafari says that Frontline did get money from pandemic assistance, but it was only enough to pay employees. The store used to employ six people, but has since cut down to only three workers. Rent is the real pain point for Frontline with them being months behind. Tafari says that the rent at the Hyde Park location is a bit more than the other locations, but that it's worth it because of the sense of security residents feel.
"They have the University of Chicago police, the regular police and other security forces. People feel more safe coming in here. So you know, so people come around and walk by, browse, if they don't buy a book, they buy incense or they buy something," said Tafari.
Tafari says they are currently aiming to raise around $40,000-$50,000 to be able to stay open. Shifting to more online sales is another way the store has been trying to supplement its losses.
Update (9/20): Supporters of the store have launched a GoFundMe campaign at gofund.me/1b4efe5c