The first thing you might encounter when entering Southspace, the new 1400-plus-square-foot art gallery located in one of the ground-level storefronts of the University of Chicago's Campus North Residential Commons, is a green rubber ball rolling across the floor. It is likely then that you'll hear the pitter-patter of small feet as a wide-eyed two-year old chases the ball. He might pick up the ball and run some more or he might stop and give you the once-over.
Christian and Clara Clarke are the proprietors of Southspace. They are Resident Heads at Campus North, where they look after about 100 first- and second-year students. Clara is a graduate of the U. of C.'s School of Social Service Administration (SSA) — since renamed the Crown Family School of Social Work, Policy and Practice — and works with gunshot victims in the Stroger Hospital trauma unit. Christian is a visual artist. They are the boy's foster parents.
"We live in this building," said Christian gesturing upwards as he explained the genesis of Southspace, 1109 E. 55th St. "My (old) studio was 20 minutes away."
"I realized, 'This space is empty and I've been here for two years and it's always been empty.' So I was like, 'Maybe that can be my studio.' So I contacted the building managers and they arranged for us to be able to use it."
At first, the space was going to be just a studio, said Christian, who has a degree in painting and drawing from the University of Utah and currently is a Graduate Student-at-large at the U. of C.'s Graham School. But he soon realized that he needed only a small part of the storefront space for his own art. 
"I'm like, 'The lights are all here; everything is already set up to be a gallery. So let's make use of it.'" 
"The goal was to support, to try to support artists, both students on campus as well as from the local area," said Christian. 
"Another goal I've always had," he continued, "is to be able to provide a learning space for youth. 
"I like to teach, so the space is kind of dual purpose — to be a learning center and a kind of accessible gallery, family-oriented a little bit. Not too highbrow or anything." 
Christian and Clara haven't developed a formal business plan for the space. "We don't need to make inordinate amounts of profit or anything to be here," said Christian. 
"We just had two students in here who want to assist with the gallery, want to volunteer," said Christian. "And we are giving them a lot of ownership of it, because I'm taking care of our son and stuff most days so I can't do it all myself. I'm kind of letting it go where the people who want to be involved take it."
The gallery is already in the middle of its first show, "Parent | Artist." In line with the couple's goals for the space, it features works by parents who are also artists.  
"Well, I'm a dad," said Christian, explaining how he and Clara came up with the theme for the show. "I'm also an artist and doing all these things." 
"I'm like, 'I'm sure there's a lot of people in similar situations.' So, I just thought, 'I'll put out a call for artists who are parents.'"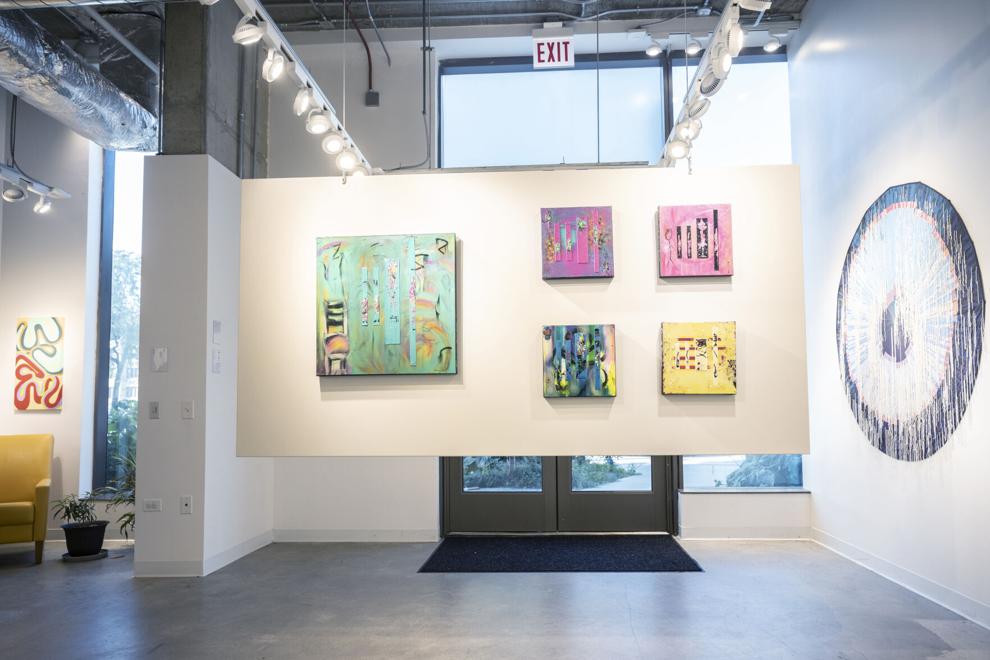 Christian asked for submissions through the Chicago Artists Coalition, a nonprofit organization in the West Loop that supports contemporary Chicago artists and curators.  
"It was only like a week-and-a-half application period before we started wanting to get the show up, so it was a short period of time," he said. "And it ended up being a really nice group of artists."
"We all related to each other really well as all being parents as well as artists, because as an artist and a parent, your art can never be your first priority, you know, your family is definitely well above that. You would give up your artwork for your family."
Christian and Clara have set up a nap area and a small desk with a computer in a side room of the gallery. So if you do visit the gallery and don't immediately see their son, he might be there anyway, just hard at work or taking a nap.
The gallery is planning a poetry reading and a panel discussion related to the theme of the show in the near future.
"Parent | Artist," will be open at Southspace, 1109 E. 55th St., through October 22. 
To find out more about the exhibit and the gallery visit https://southspacecreative.com.