At first, Malika Jackson claimed, she wasn't all that excited about her upcoming exhibition at the Hyde Park Art Center (HPAC). 
"I wasn't excited until it really got close," said the 72-year-old South Shore artist. "Then I got really excited and started sharing the news with everybody. I'm really kind of a low-key person and I don't like being the center of attention. 
"I wasn't telling anyone at first and when they found out they were saying, 'Well, why didn't you tell me?' I'd go, 'Oh, it's just a show.'" 
But as Jackson herself then pointed out, "Whispers of a World Without Words," which opened this past weekend, is significant — it's her first solo exhibition in more than two decades. She described it as something of a retrospective; it covers a career of geometric, colorful work in painting, drawing and sculpture. 
There's a throughline to much of the work. In her notes to the show, HPAC director of exhibitions and residency programs Allison Peters Quinn describes how "Jackson's seductive color palette, in combination with sharp-edged geometric abstraction, creates the language the artist uses to address the Black American experience." 
One of Jackson's influences who shows up explicitly in "Whispers of a World" is Wifredo Lam, a mid-20th century Cuban painter. Lam became close to the surrealists and Picasso during an extended stay in Europe before World War II, and his tropically inflected work mixes their approach with inspiration drawn from Afro-Cuban rituals, such as the voodoo ceremonies he and his wife attended alongside the writer André Breton. 
"I just like his form and his figures, the fluidness of his work," Jackson said. "It's nice to see some Afro-Cuban artists represented in Cubism, because you don't hear him mentioned a lot, right? You hear about Picasso and other Cubist artists, but you very seldom hear about him unless you really start reading about Afro-Cuban artists." 
For "Garden of Eves (Tribute to Wifredo Lam)," Jackson took one of Lam's works and "revamped" it, retaining much of the earlier artist's general style even as specific colors and shapes changed. As with other pieces in the show, she paired it with a poem — in this case, Nikki Giovanni's "Ego Tripping," which will be placed on a screen next to the work itself. 
"When I see my work, I don't think I really need to have a conversation about it. And many times, poetry speaks to that piece. People really kind of get it, and then they can read their own thoughts into it," Jackson said. "When you use poetry, it gives another dimension to the art to me."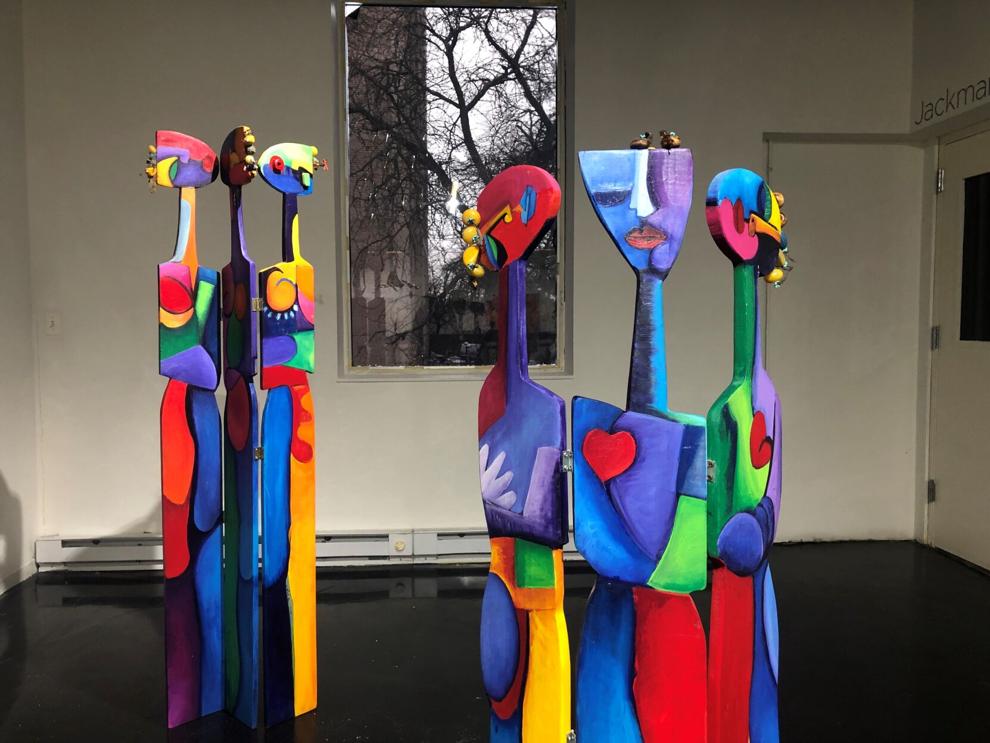 "I Too Am America," a series of works Jackson made in 2019, is more explicitly political, featuring portraits of Black American painted in the colors of the United States flag. 
"If you're white, you don't have to clarify that I'm a white person — you're an American. And they use that American flag, and wave it as if, you know, we're all-encompassing. But when it comes to being a Black person, you have to identify yourself first as the color you are," she said. "Why do I have to be labeled as a Black person, a Black woman, or any other thing than being an American?" 
Jackson, who grew up in Chatham, settled in South Shore about 15 years ago. She's worked at Dixon Elementary School, 8306 S. St Lawrence Ave., for even longer than that, getting into teaching art as a way to help take care of her daughter. 
"I'm a believer that we're put on this earth to serve others anyway, so that was a perfect avenue for me to be able to serve other people and the children really love it," she said. "It was over 25 years ago, and I'm still doing it." 
Jackson also moonlights at a couple of other CPS schools, and teaches senior pottery classes at HPAC. She got involved with the center after she began taking summer classes to learn something new for her students at Dixon. At HPAC, she said, she found a community of people that exposed her to an important set of new perspectives on art and life. 
"The Hyde Park Art Center is just so special. It's a place so you can get educated, you can get fed spiritually, creatively," she said. "If I had stayed there at Dixon and not ventured out, I would never have met such a wide range of people and different cultures that I've met." 
Ever low-key, Jackson said before the start of the show that she would be teaching a class on opening day, but might pop in to see how things were going downstairs. 
"It's never too late for you to get out there and show who you are as an artist. I'm an older person," she said. "When it's your time, it's your time, and never give up on your train if there's something you really want to do."