"Unsettled Ground":
Shortly before he was shipped off to fight in World War II, Leonard Havens made a linocut of a South Chicago steel mill. Born in Pittsburgh, Havens attended the school of the Art Institute of Chicago and, afterward, created his woodcuts and other prints under the auspices of the New Deal's Federal Art Project. 
The mill, nestled up against either Lake Michigan or the Calumet River, is as nondescript as any of the hundreds of small-scale shops once found in that part of the city. Together, they caused the air to thicken into a smog so dense that, in the words of one historian, "it made breathing a conscious act."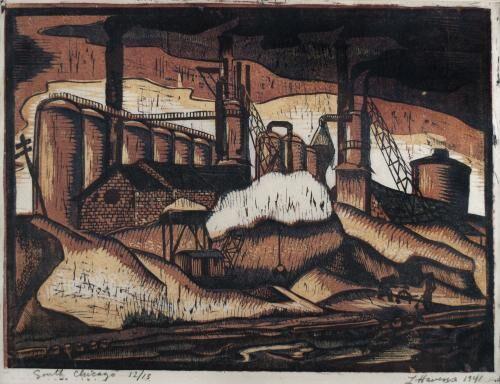 But Havens' work doesn't really feel oppressive – the layers of sky, cloud and smoke are as beautiful as a sunset, and the mill structures are rendered in the style of a wartime propaganda poster praising the might of American industry. It's a historical artifact whose attitude toward factory production, if not its working conditions, seems relatively neutral. The Chicago swampland was being put to good use. 
The linocut is part of "Unsettled Ground," an exhibit featuring pieces from the Smart Museum of Art's permanent collection that link art and the environment. It's a disparate set of art objects, featuring the outsider drawings of South Sider Joseph Yoakum, Art Nouveau glassworks and a ten-foot scroll showing the forced displacement of Chinese residents caused by the construction of the Three Gorges Dam.  
"Unsettled Ground" was curated during an art history class at the U. of C., and there's plenty of room for a visitor to soak in disciplinary theory — the one-room show is divided into four sections, each with its own introduction, and essays by students accompanying many of the works are available online. If that's too scholastic, as it was for this ex-grade grubber, it can also be fun to wander around for half an hour and draw some irresponsible conclusions about the charm of a steel mill. 
Or take Bertha Evelyn Jaques' cyanotype of a cherry branch from South Haven, Michigan. Jaques was a Chicago etcher and preservationist who avidly cataloged Midwestern flora using cyanotype, in which specimens are placed on paper washed with a mixture of iron compounds and exposed to ultraviolet radiation. The result is a plant preserved in Prussian blue; it looks like a medical scan from a hospital for ailing flowers.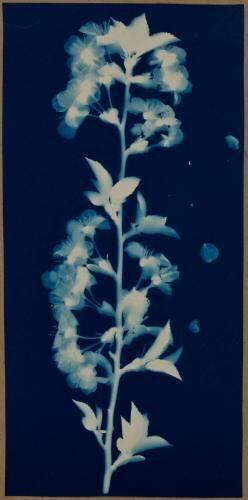 Jaques thought of her work as a way to memorialize nature. In a poem, she wrote that "there is a moment's loveliness too great for words to hold; so paper caught and scattered it for all the world to keep."
Cherry blossoms — anticipated to appear in the next few weeks in Jackson Park — die quickly. Steel mills hang on longer, though they don't return every spring. Not that plants will necessarily be here for much longer; black cherry tree regeneration is slowing in the Midwest because of climate change, according to a study published last year by the United States Department of Agriculture. 
At least we'll have works like the ones in "Unsettled Ground" to remind us, as the environment continues to degrade, of what we're losing, and the fun we had on the Calumet while doing it.
On view through June 26. smartmuseum.uchicago.edu/exhibitions/unsettled-ground-art-and-environment-from-the-smart-museum-collection
"Bob Thompson: This House is Mine": 
It's a shame that the comprehensive survey of Bob Thompson's work currently on view at the Smart — a traveling show that started in Maine and ends in Los Angeles — has gotten so little attention from the city's art press. 
As exhibit curator Diana Tuite told the Herald for its spring museums guide, Thompson's work is "a prism unto the history of Western art." During his short, prolific career, he soaked in the music of the New York City jazz greats he became friendly with in Greenwich Village and created brightly colored paintings inspired by Baroque and Renaissance art. 
The show, at the Smart until May 15, does a good job of presenting this context, as well as the influence of expressionists like the German painter Jan Müller. But more importantly, the work is deeply enjoyable.
"St. George and the Dragon," a work from 1961, is presented next to a smaller version of a draft sketch and Thompson's source material, an oil painting by the Venetian Renaissance artist Tintoretto. Thompson's work seems like a send-up at first — the ornate detail of the original is stripped away to a series of geometric forms, and the dark tree in the foreground is more menacing than the overgrown lizard about to find itself beaten to death by a blunt ax.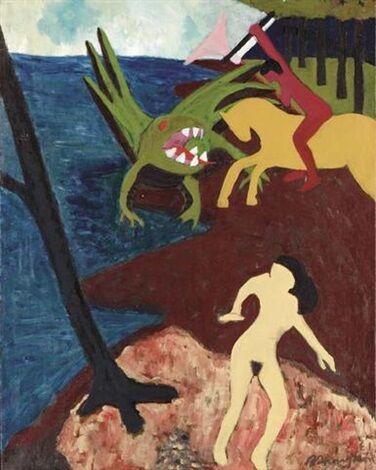 The more I looked at it, the more I found myself attracted to the way Thompson removes all religious elements and other identifying details, placing his colorful subjects in, really, any time or place imaginable. It has the feel of a myth. Man turns animal into mincemeat with dull instrument in effort to impress woman — what's more universal than that?
My other favorite is a self-portrait Thompson painted in 1960, shortly after moving to New York City. He's seated contemplatively in a chair, eyes closed, in front of a drum set, bookshelf and his canvases. It's not his most experimental painting, but he has an air of self-assurance that seems important to understanding his stranger work. 
Thompson would only live for another six years after that self-portrait, dying at the age of 29 while in Rome. But you can still head to the Smart for another month to see everything he did put out, more than most do in a lifetime.
On view through May 15. smartmuseum.uchicago.edu/exhibitions/bob-thompson-this-house-is-mine