"Ground Floor," the Hyde Park Art Center's latest biennial exhibition of work from master of fine arts graduates at five Chicagoland schools in 2019 and 2020, is on through April 3, finally allowing last year's artists to show off their work.
As HPAC's Mariela Acuna points out, the works on display are a good introduction into each school's artistic forte, from the School of the Art Institute of Chicago's conceptualism to Columbia College's strength in photography. Faculty nominate the best of each class, then a jury of curators and established Chicago artists go through every application. The exhibition is many of the chosen artists' first show.
"Being included in 'Ground Floor' is a huge opportunity for me," emailed Daisy Schultz, who got her degree from the University of Chicago last year. "As I finish up my MFA in a time upended by a pandemic, it means a lot to me that people still want to engage with and experience physical artwork in any way that they can. I have never shown work to such a wide audience as the Hyde Park Art Center enables, and I feel grateful for the experience."
The biennial also presents an opportunity for HPAC to introduce itself and its opportunities to the artists, who can come to Hyde Park to teach or get professional critiques.
"When you leave an MFA program, sometimes you can feel kind of isolated because art-making can be lonely," Acuna said. "The Art Center offers spaces for those kind of conversations. It is a way for us to support these emerging artists, a way for us to get to know their practices and for them to know us."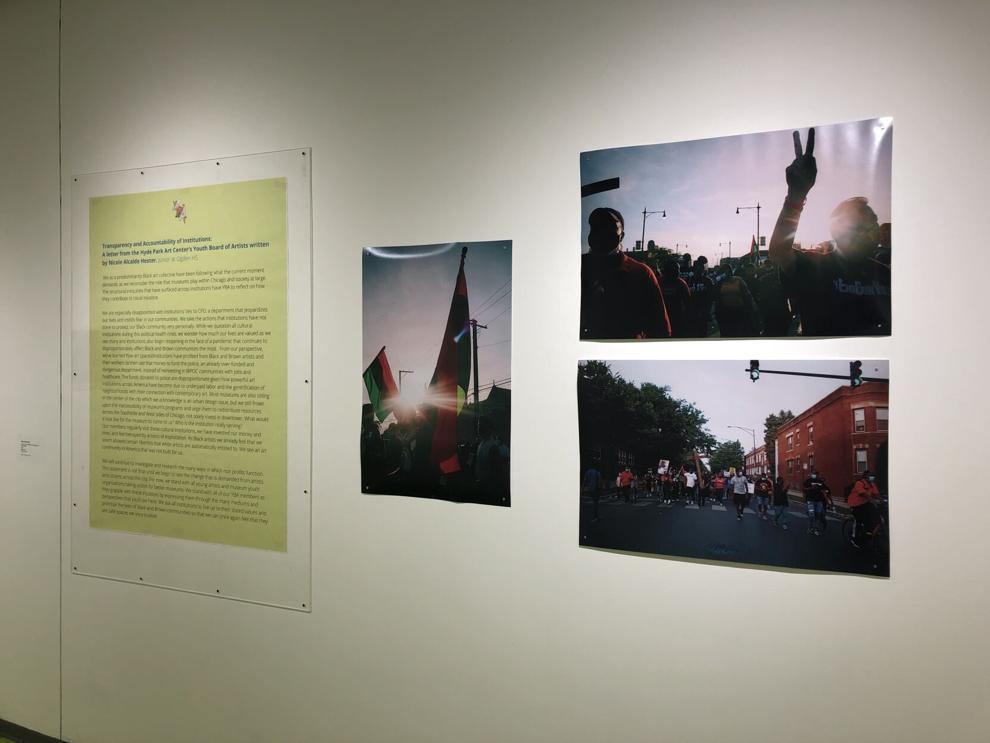 "Next Window, Please," also on through April 3, presents work by students in HPAC's teen programs, including some responding to the civil unrest and protest movements that followed the police killing of George Floyd last summer. It also includes a letter they signed in solidarity with the Museum of Contemporary Art Chicago's Teen Creative Agency, which has demanded that the MCA cut its ties to the Chicago Police Department.
Despite the pandemic, the teens' courses and programming have continued, albeit virtually. Exhibitions have gone on around spikes of COVID-19 cases, and resident artists have continued using the building's studio space.
One last exhibition at HPAC, "Cuts and Beats" by Cecil McDonald Jr., mixes racist and stereotypical images of Blackness from minstrelsy and vaudeville with contemporary Black art, primarily dance, mostly through photo collage of vintage historical images with his own photography. McDonald is a former HPAC resident; his show is on through June 12.