Several years ago, D. Lammie-Hanson's husband, who knew about her love of Leonardo da Vinci's work, suggested she should learn silverpoint. 
Silverpoint, a technique popularized in the 15th century, uses silver wire to etch a surface. Artists then paint over the silver etching — Lammie-Hanson noted that da Vinci and his contemporaries used it for writing and sketching (it predates pencils and graphite). 
Prompted by her husband, Lammie-Hanson taught herself to use the technique. Now, her work is part of the "Dream" exhibition at the Hyde Park Art Center (HPAC), and Lammie-Hanson will lead a workshop on silverpoint this weekend at the center.
Her focus is examining how Black skin can be portrayed through the medium in the present day. 
"Mostly silverpoints are done with white and then they build up. I like to show that my focus is showing the beauty of Black skin and the beauty of just blackness, because you don't see a lot of silverpoint of Black people," she said.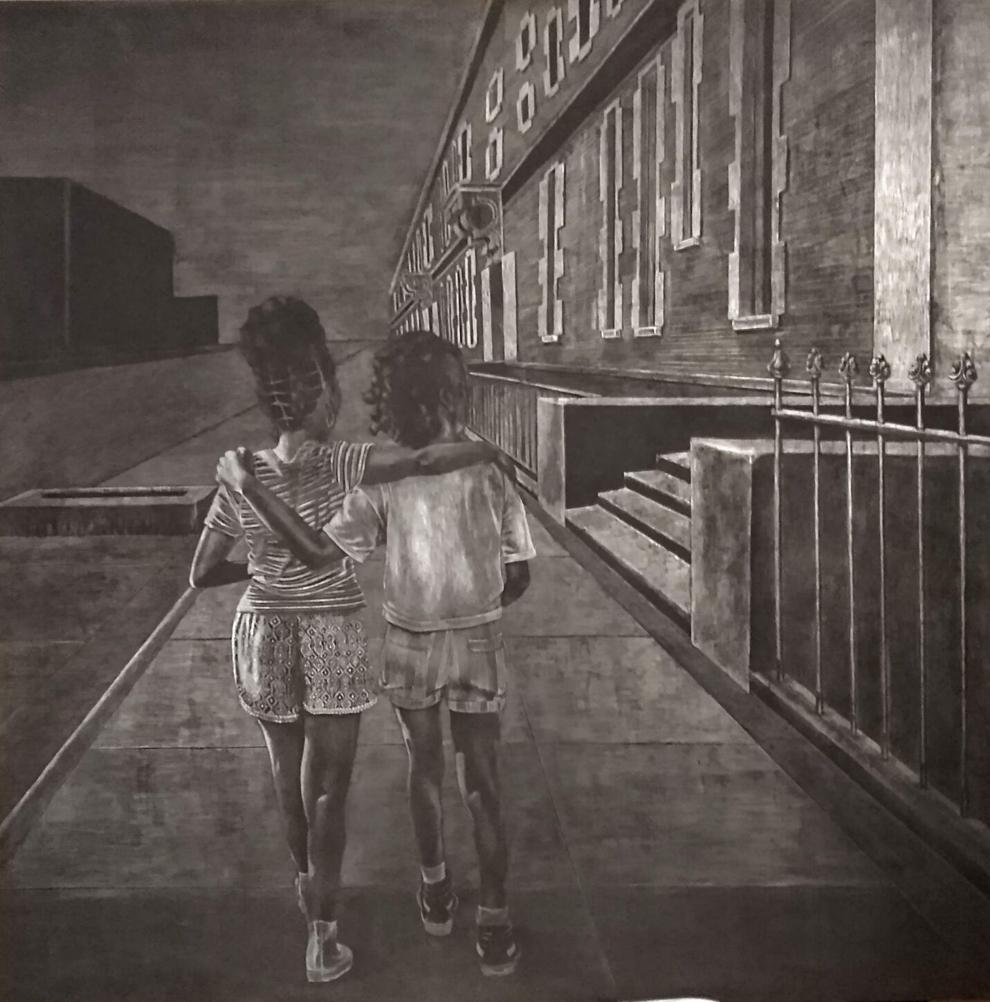 Part of her learning process included a two-month residency in Spain, where she immersed herself in the technique. Though she has officially been working with silverpoint for five years, Lammie-Hanson said she is still learning to master it. 
Lammie-Hanson's connection to Chicago started in 2018 when Kenwood's Gallery Guichard, 436 E. 47th St., invited her to be one of their artists. A native New Yorker, Hanson came to Chicago by way of New Orleans in 2020. 
"It was as close as I could get to New York in terms of architecture, culture, and history. I'm still digesting Chicago in ways that it's easy for me to. I'm getting a lot of history from so many people who are walking me through. It's very rich. That's all I care about, is how rich culturally it is," said Lammie-Hanson.
Upon moving to Chicago, Lammie-Hanson connected with HPAC when she applied for and was accepted to its Center Program for developing artists in 2021. Lammie-Hanson said that, because she moved to the city right as the COVID-19 pandemic began, she didn't really have a chance to build with the arts community and the HPAC program helped to create that community for her.
"I applied for a lot of things, but then some things kind of shut down. So I didn't get a chance to really get into the art community. When I applied for The Center Program I ended up getting into a community of people who supported each other, and who were stellar in the way they do their work. And I felt very privileged and honored to be part of that community."
The Center Program artists have had their work on display since December in HPAC's "Dream" exhibition. Lammie-Hanson's contribution features four silverpoint pieces on black surface wooden panels that are 4 by 4 feet long. Each piece explores the word "dream'' in a unique way, delving into Lammie-Hanson's personal history of what dreams have meant for her.
"Dream" will be on display at the Hyde Park Art Center until March 20.