"Moments In Between," on display until Nov. 24 at the Hyde Park Art Center (HPAC), showcases new pieces made by interdisciplinary artist Tran Tran during their ceramics apprenticeship at the center. Tran, who was born in Vietnam and raised in California, broadly engages with transitional states in their practice, which reaches across ceramics, sculpture, painting, drawing, digital art and photography. 
"Whether I'm making clay or working with (artificial intelligence), I try to bring out that feeling of things transforming, appearing or disappearing," Tran said.
"Moments In Between" indeed consists mostly of ceramic pieces and prints of AI-generated art, which, mounted on a long corridor wall, welcome the viewer upon walking into the exhibition space. Sculptures, drawings and paintings are also on display in a room at the end of the corridor, all interspersed with one another — ceramic pieces mounted next to or even on prints, paintings hung next to ceramic works, sculptures gazing out from the center of the room. 
It may seem strange that Tran has chosen to depict transformation, appearance, and disappearance in these media that are themselves static — a ceramic work, for instance, doesn't change after it leaves the kiln. Few of Tran's pieces, however, actually narrate entire processes of transformation. Instead, they are interested in how moments in between seem to transcend material reality. 
"In a moment, you feel like there's something beyond the physical vessels of everything… you feel that something is happening underneath, beyond what you can explain," they said. 
Tran traces this sensitivity to "something beyond" back to their childhood. "The magic I'm talking about is rooted in when I was growing up in Vietnam. The way my parents made me feel and be around nature had a really deep impact on me. And I feel that whenever I'm really observing things, that unfolding around me, I feel something like this very intense life force. To me, it's magic happening… And while it's kind of mysterious, it feels very related to things happening around us."
This everyday sense of magic suffuses "Moments In Between." The works on display have an illusory quality to them, upsetting the ordinary experience of perception and jolting the viewer into a heightened awareness of form usually expected only of the artist — what is at first seen as a letter decomposes into a set of lines, what is at first seen as an ear decomposes into the contours of the ceramic.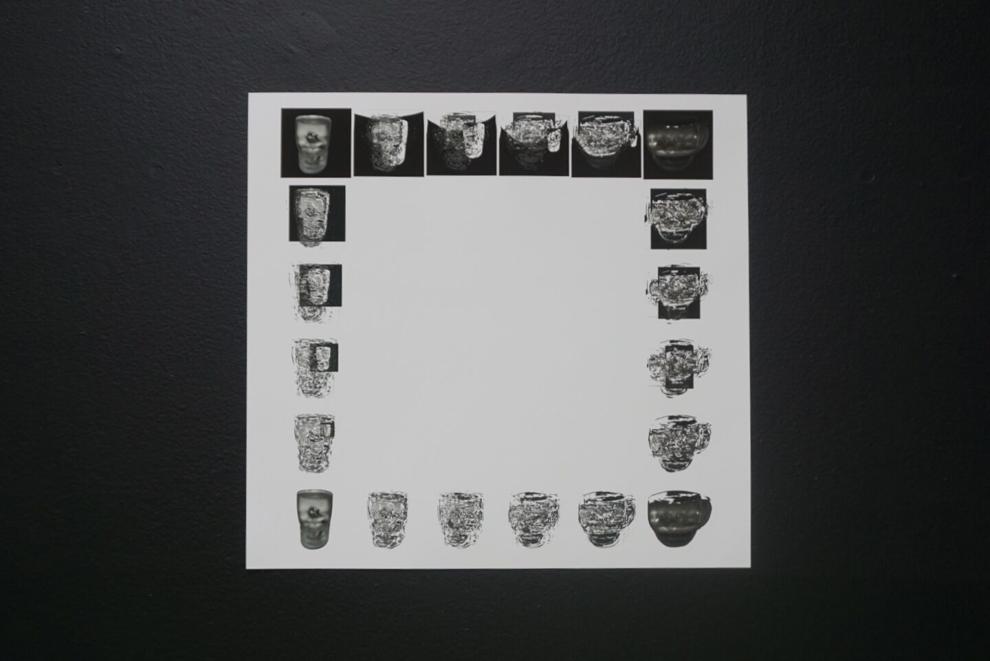 One of the few pieces that involves literal transformation tracks the metamorphoses between four AI-generated images of cups frame-by-frame. Carefully tracing the transitions reveals that, even as the forms dissipate into one another, the cups remain recognizable as such in the in-between stages. The sort of perceptual question Tran raises here, which requires us to look beneath physical form and into the immaterial — what exactly about the form of a cup makes it discernible as a cup? — is asked again and again throughout the exhibition, across different media.
A key tool that Tran uses to raise these questions is artificial intelligence. "I try to draw out the images or shapes that I remember that I created through AI. And then, once I've made the ceramic work, I'm referencing those things while I'm making the AI work to something that would make me think of my ceramic work too," said Tran. 
To generate AI images, they use software which allows them to select and adjust particular "attributes" — key features shared in common by thousands of crowdsourced photos of an object — that are then combined to produce an image. One of the images of cups, for instance, was generated by combining nine different attributes, including coffee mug, goblet, mouse, hourglass, water jug and curly-coated retriever. 
"With AI work," said Tran, "I feel like it's almost easier for me to generate objects that feel like they're constantly dissipating, like their physical quality is constantly changing."
The ceramic work manages to capture the magic of the ambiguous and in-between. From surfaces glazed in neutral tones, rounded abstract forms with an organic or natural quality emerge, greeting the viewer like old acquaintances, comforting in their passing familiarity but evading proper recognition. The still, unchanging clay feels almost animated by dizzying shifts in perception — as I stood in front of one piece, I saw entrails become mountains become a gas mask, only to find out that the work was named "Waves."
With this in mind, it is surprising to learn that Tran's first encounter with ceramic only came three years ago. "Once I moved to Chicago and went and took my first class with Joe Kraft at the Hyde Park Art Center and started working with clay, I felt like (something was) breached. It made me close the gap between immaterial beauty and the physical beauty of things."