Damarr Brown was in the middle of a service one night at Virtue Restaurant and Bar, where he works as chef de cuisine, when he got the call that he'd made it onto "Top Chef." 
"I was working the line one night, and I got a phone call. They told me I was gonna be on and I was super excited," he recalled. "By the time I got the call, I was really determined to be on 'Top Chef.'"
The Harvey native will be a contestant on season 19 of Bravo's cooking competition, which airs on March 3. As with the previous seasons, the format sees contestants eliminated each episode until only one winner remains — they'll get $250,000 and a feature in Food & Wine magazine. 
Brown said representatives with "Top Chef" reached out last summer, though he wasn't sure that he wanted to audition at first. Virtue's owner and executive chef, Erick Williams, convinced Brown to give it a shot. 
"Chef Williams actually convinced me that it was a huge opportunity," said Brown. "He was like, 'You should just go for it, see what comes out of it,'" said Brown.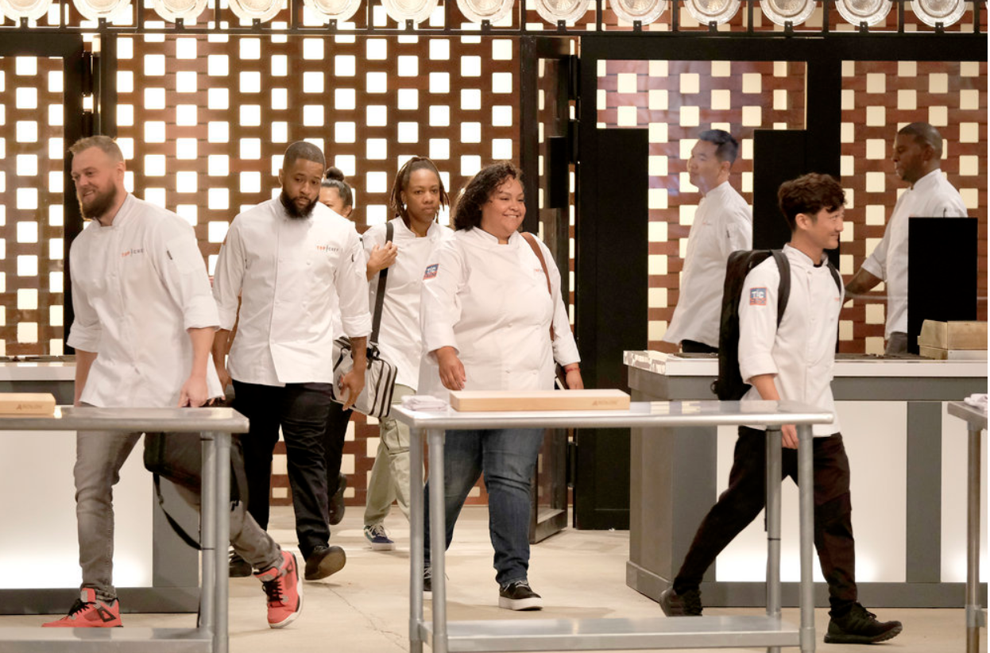 The kitchen has long been an outlet for Brown. He was raised by his mother, aunt and grandmother — he says the three Black women were integral to his upbringing and used the kitchen as a way to keep him out of trouble.
"I was a single child, so they kind of always had me in the kitchen, I guess it was like a way to keep me out of trouble. But fortunately, I didn't mind it that much. I actually really enjoyed it," he said.
Brown began cooking at the age of 8, and his mom soon began using it as a fun game to challenge him — she would bring foreign ingredients home for him to experiment with, encouraging him to get better in the kitchen.
"Once they figured out that I enjoyed cooking, my mom kind of pushed me in that direction. Like we would watch 'Chopped' all the time, we watched "Top Chef" when that came out," he said. 
Coming from a religious background, Brown said his family immediately started praying when he told them about the opportunity — prayers soon morphed into screams of happiness when he gave them the good news. 
Seeing the opportunity as a move that will challenge him, Brown also hopes the experience will bring in business and new talent to Virtue, 1462 E. 53rd St., which has landed a spot on the Michelin Guide's Bib Gourmand list.
"I'm hoping that it'll make the restaurant busier. I'm hoping that we will be able to get more staffing because it's hard to get staff on the South Side," he said. "Most of the cooks who are really serious about food choose to live on the North Side because all the higher-end restaurants (are) on the north side."
Brown said he is proud to showcase the diversity that Chicago's food culture has to offer, arguing that there's no better city for food than Chicago: "I think Chicago has everything in food, like tons of Italian joints. We have some of the most forward-thinking chefs in America."
Virtue is a high-end restaurant that is Black-owned and 90% staffed by Black and brown people, a rarity in the realm of fine dining, according to Brown. He says that Virtue is very intentional, with the goal of giving hope to the Black community in an underrepresented space.
"I think that Virtue kind of personifies all of that, for a lot of people. I think this is the starting point," he said. "And hopefully, it can be a beacon for other people to venture out. We deserve to be in a lot of these rooms and a lot of these spaces. And it starts by doing what we're doing at Virtue."