When the pandemic struck, Bruce Finkelman with the 16" on Center hospitality group began seeking out new ways for talent to fill his array of music venues and restaurants. 
He had sought out Jonathan Zaragoza — known especially for his goat meat–forward, Bib Gourmand–winning Birrieria Zaragoza, 4852 S. Pulaski Road — when he opened the Revival Food Hall downtown, and he approached him again about a residency at The Promontory, 5311 S. Lake Park Ave W., a few months ago.
El Oso — "the bear," Zaragoza's childhood nickname — opened on Oct. 15.
"The response has been fantastic," Finkelman said. "The support that we've gotten from the Hyde Park neighborhood has been everything that we've grown to love about being a Hyde Park neighbor, and the support Jonathan's cuisine that he's putting out there, the passion for his food and the honest approach for his food that he puts out has just been something that we've seen people really excited about."
The Promontory is not serving its menu while Zaragoza works out of its kitchen for at least three months, but El Oso's menu utilizes the restaurant's signature wood-burning stove, which is using a variety of hardwoods depending on availability. 
The signature frozen "piña asada" ($12), for instance, comes with the requisite pineapple charred over the grill alongside Bacardi rum, coconut and corn.
"All our moles come off the wood-burning 'comal,' so there's a complexity there that we use because of the wood-fired grill," Zaragoza said. "We employ this technique that's used a lot in Mexico called 'tatemar.' What it means is basically cooking at high heat in a dry pan, and in this case we're using a wood-burning 'comal' or 'plancha.' And what that does is allow whatever you're cooking on it to build some character that you otherwise wouldn't get if you were cooking in fat."
The cuisine is autumnal, masa-focused and pan-Mexican: pork belly chicharrón ($18) with southern mole manchamanteles, with sesame, almond, pineapple, pear, ancho chile and tomato; sikil p'ak ($10), a spiced pepita dip from the Yucatán Peninsula; frijoles charros ($5) from the north. 
"We're cooking Mexican food in Chicago, and obviously we're at the will of the growing season out here, and we're trying to work with local farmers as much as the season allows us for," Zaragoza said. The stone-ground white corn in the tamal frito ($15) — cooked down with butter, queso cotija and pipián verde, set and deep-fried and served with delicata squash and mushrooms — comes from the Three Sisters Farm in Manhattan, Illinois. The pears in the mole manchamanteles are local, too. 
"It's important for us to build those relationships, because in Mexico, those relationships exist everywhere."
There is, rest assured, goat on the menu. Chivo tatemado ($20) is nearly the same dish as at Birrieria Zaragoza: "Goat that has been dry-brined with salt overnight, and then we steam-cook it, and once it's tender, almost falling off the bone, we marinade it in a mole negro," made with ancho and pasilla chiles, peanuts, almonds, plantains, raisins and allspice. (At Zaragoza's Southwest Side restaurant, he uses a simpler, "more one-note" red mole.) Then it's roasted in lard until crispy.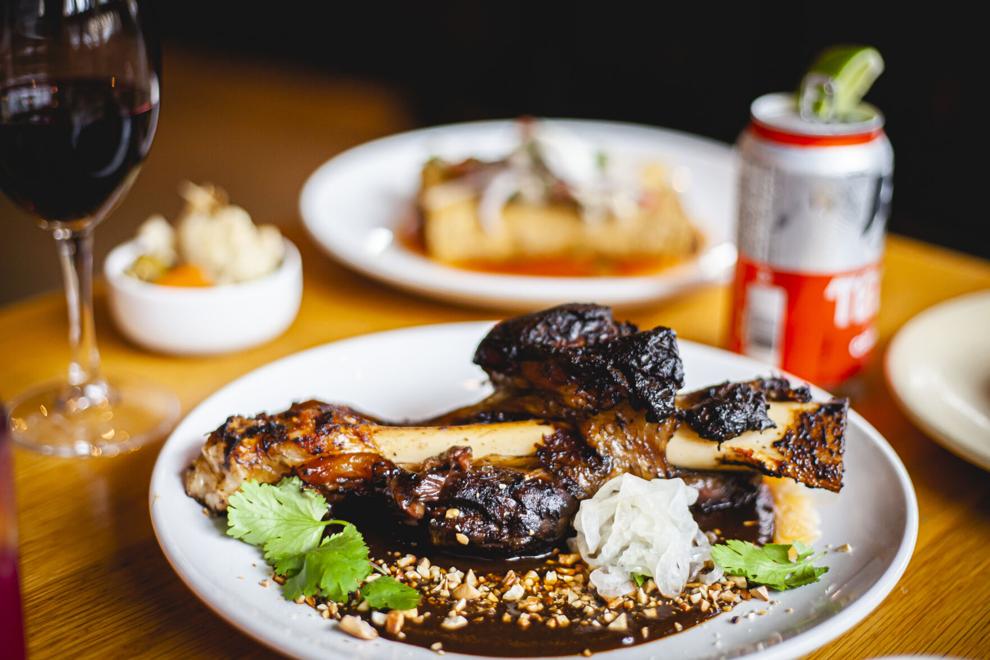 El Oso's enmoladas ($12) is made with Oaxacan yellow mole, with guajillo chiles, cumin and masa, over tortillas with squash and mushrooms. Tetéla de cangrejo ($14), another Oaxacan dish — griddled masa stuffed with quesa crema, garlic and crab and served with peanut salsa — is on the menu out of Zaragoza's love for crab Rangoon.
"It's something that's fun to cook and interesting on the menu for customers. I think we're in the making-people-happy business," he said.
Dessert ($8) is a concha roll and helado sourced from Pretty Cool Ice Cream, 2353 N. California Ave., owned by Zaragoza's friend Dana Cree. "We want to support as many other local artisans and chefs as we can," he said.
If you go
"Safety is our No. 1 concern, not only for our staff but for our customers, for our employees and for our family," Finkelman said. No documented cases of COVID-19 transmission have happened at 16" on Center properties, he said. 
El Oso is not operating as a full-service restaurant. Customers make orders at a counter with a socially distanced line, and a runner sends out food. Outdoor seating is still available. Walk-in service is available, and meals and cocktails can be taken to-go or ordered for delivery beginning on Wednesday, Oct. 28.