Opening a restaurant during a pandemic is very risky, but BarDavid on the ground floor of the David Rubenstein Forum benefits from an appealing concept and the University of Chicago's resources.
The upscale 74-seat bar and dining room made its debut for lunch and dinner in July at the university's year-old conference center, 1201 E. 60th St. It is already gaining a loyal following, even as it's been the only space in the building open to the public and students aren't back on campus yet.
"We're doing as well as expected if not better," said Tracy McCabe, associate vice president in the office of the president, adding that they were up to 20 to 30 covers each for lunch and for evening cocktails and small plates. "We're delighted that many Hyde Park and Woodlawn residents are discovering us and becoming regulars."
McCabe said that BarDavid was designed to provide intimacy and privacy in the context of a public space. Local firm Brininstool + Lynch collaborated with the building's New York–based architects Diller Scofidio + Renfro on the 1,100-square-foot interior, and the furnishings were custom made by Chicagoan Christopher Hubbard. "Everything from the fireplace to the curved booths and velvet chairs was chosen with warmth in mind," McCabe explained, "and the deep blue hues reflect the cuisine, which is modern Mediterranean, in a most sophisticated way."
While the university hired Benchmark, a global hospitality company, to manage the Forum, McCabe said he was very hands-on about the aesthetics, offerings and service model, as was his colleague Katie Callow-Wright, executive vice president. "We wanted BarDavid to be elevated in style with 'clean food' (based on fresh, often organic ingredients), in line with fine dining but accessible and approachable in terms of price," he said. "We also knew that the Study at University of Chicago hotel was opening with a British-inspired gastropub, and we wanted people to have two great, distinct options on campus South."
With McCabe's input, Benchmark hired Marco Bahena as executive chef of the Forum, including BarDavid, the adjacent Dining Suite and catered events. "He's an ideal fit because of his fine dining experience at Everest, a stint at Lyfe Kitchen and his travels in southern France and the Basque region of Spain, where he worked for six months at Michelin 3-star Restaurante Martín Berasategui," he said of the 32-year-old Chicago native and Kendall College culinary arts graduate.
Bahena's opening BarDavid menus, which he called "his fantasy of European-style shared dining based on his travels," combine Mediterranean influences and seasonal Midwestern ingredients, as well as a couple of Asian forays. The focus is on small plates, though salads and flatbreads also feature, especially at lunch, and the dinner lineup includes a handful of main courses. These top out at $26 for steak frites or Moroccan lamb shank, but almost everything else is $5-$15.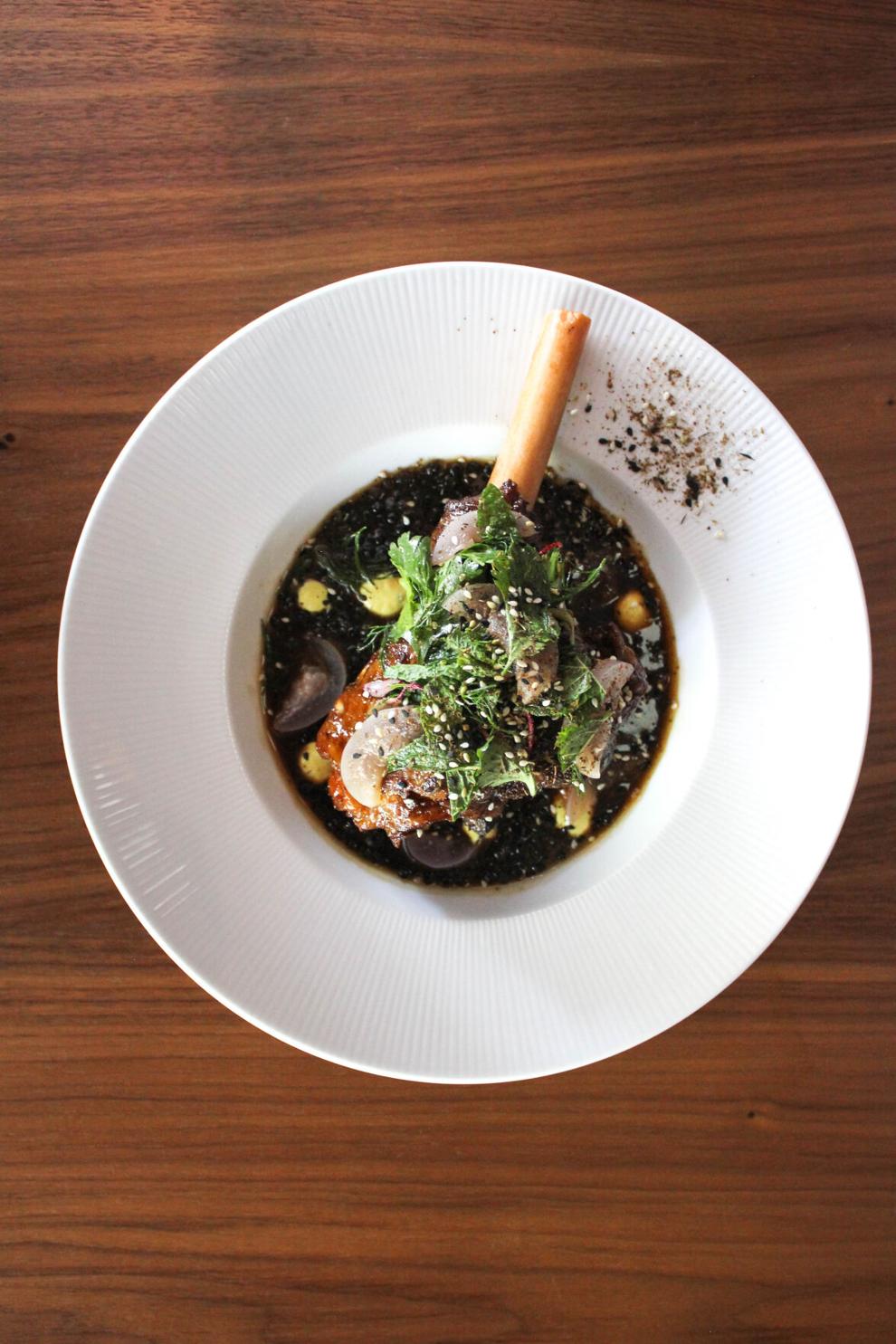 McCabe said the most popular items, which surprised him, are the Parmesan chickpea fries, the tuna poke bowl at lunch and the flatbreads, which customers order to go with drinks in the evening. Bahena noted that the fries, which are chickpea flour "panisse" served with piquillo pepper aioli, come in second to the Amish chicken croquettes with prosciutto and a slightly spicy brava sauce. "They're really inspired by the Basque country, where croquettes are a common street food," he said. "We're making them constantly."
Other Bahena favorites are the roasted broccoli with smoked dates, verjus pickled raisins and harissa vinaigrette; the flat bread with burrata, roasted tomato and basil pesto, and the Moroccan lamb shank. "Preparing the lamb shank is a three-day process," he explained. "It's marinated in yogurt and "ras el hanout" spice the first day, braised the second, and on the final day, it's crisped on the outside and glazed with the braising liquid." The lamb comes with black lentils, pickled eggplant, curry yogurt and mint salad, though the chef said accompaniments vary with the seasons.
Bahena, who sources locally as much as possible, estimated that 40 percent of his produce is from the area in season. Klein's Farm and Market in Elgin supplies the broccoli, which will be available for another month or so, as well as cabbage and squash. MightyVine in Rochelle provides cherry tomatoes. Lake Breeze Organics contributes salad mixes for his catering, and he hopes to collaborate with them on growing custom vegetables, as he's done in previous jobs.
The raw, unfiltered Illinois honey and the maple syrup Bahena uses are from Heaven's Honey, Phoenix Bean on the North Side produces the tofu and Ludwig Farmstead Creamery in Fithian, IL, crafts the Kickapoo cheese. "I'd like to put more Midwestern cheeses on the charcuterie plate," he said, adding that he also gets "lots of random things like yogurt" from Local Foods.
Creating a rooftop garden tops Bahena's wish list for the future, but as the Forum gears up for the school year, more immediate changes are underway. BarDavid begins serving breakfast September 21 with a menu of about fifteen items ($8-$15). Some are health-focused, such as a coconut yogurt bowl, but Bahena said most are small light bites, among them house-made pastries, tartines and toasts (avocado, whipped ricotta and honey, egg scramble on sourdough). There's also a full espresso program. "A lot of joggers come through in the morning," Bahena said, "and I think they will like this."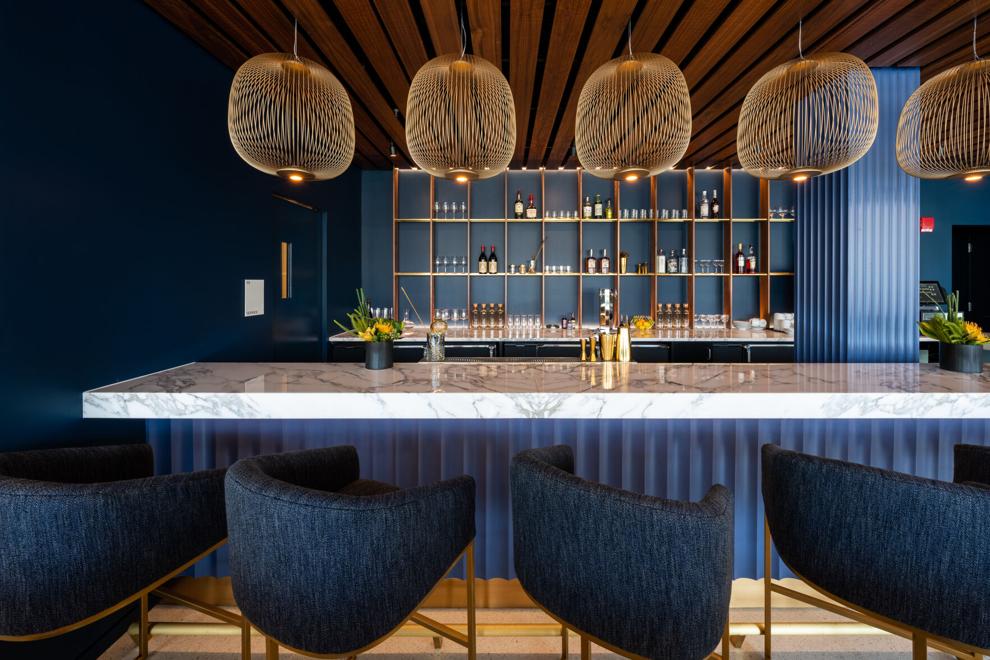 Plans to enhance lunchtime options range from expanding the BarDavid menu (the dinner lineup, too) to opening the 100-seat ground floor Dining Suite — used so far for catered conference meals — to the public for a daily three-course prix fixe lunch. "It's a little more traditional American than BarDavid," Bahena said, "and we're going to offer a different garden-focused menu every day. Two entrees, say chicken and fish, served family style with sides, follow a salad such as roasted beets with goat cheese, and the finale is a small dessert like apple cider donuts."
Although the eight-table patios outside the Dining Suite and BarDavid are unlikely to open before next season, BarDavid's wine list already has been growing. "I want to highlight different regions of Spain, France and Italy and make sure the wines complement the food," Bahena said. "One of the things my time at Everest taught me is the importance of food-and-wine pairings."
BarDavid doesn't have its own sommelier, but Bahena's team includes food and beverage manager Janelle Jara, executive sous chef Matt Edgecombe and general manager Chris Steffich. The restaurant has its own finishing kitchen, but most of the prep work, including pastry-making, is done in the basement kitchen it shares with the rest of the Forum.
McCabe said that staffing and service are slated to be scaled up in October, but he also pointed out that the Forum opened at a propitious time for hiring. "Everything was shutting down because of COVID-19 in the fall of 2020, so we were able to secure great staff from hotels and other places," he said. "Many of them started working for the Forum before BarDavid opened, and some do double duty because we want to keep everyone as fully employed as possible."
McCabe added that the personable service helps make BarDavid a neighborhood go-to, "Customers know the names of their servers," he said. "And we want them to think of us as the place to come for the best pastry and coffee in the morning, the best salade niçoise at lunch and the best wine and small plates in the evening."