In 2002, while enrolled in a master's program at the University of Chicago, Kate Lorenz "kind of happened into" an internship at the Hyde Park Art Center (HPAC).
The duties were nothing special — answering the phone, writing thank you letters — and the space in the Del Prado Apartments was a bit cramped, but she enjoyed it. 
"It was such an energetic place, with so many artists and different community members coming through, and I kind of fell in love with the vision," she said. 
That same year, HPAC received a grant for a paid development position; Chuck Thurow, then the executive director, told Lorenz she should apply. "It was a little bit of a right time, right place story." 
She got the job as development director, then became associate director after HPAC moved to its current building, 5020 S. Cornell Ave., in 2006. When Thurow told the board of directors he was retiring in 2008, Lorenz put her name in for the vacancy. She took over as executive director in 2010. 
A dozen years later, Lorenz has announced that she'll be leaving HPAC in mid-May, capping off a tenure marked by artistic experimentation, steady growth and an expansion of programming, most recently through the adoption of a pay-what-you-can tuition model for the center's classes. 
"I've gotten the chance to do so many different things and learn so much over the course of the time and, of course, have been part of the organization's growth and transformation as well, which has been really thrilling and humbling," she said.
"Part of what attracted me to it…is the chance to learn and to be in a position of getting to learn how to do things. And it's been a constant learning journey, for sure."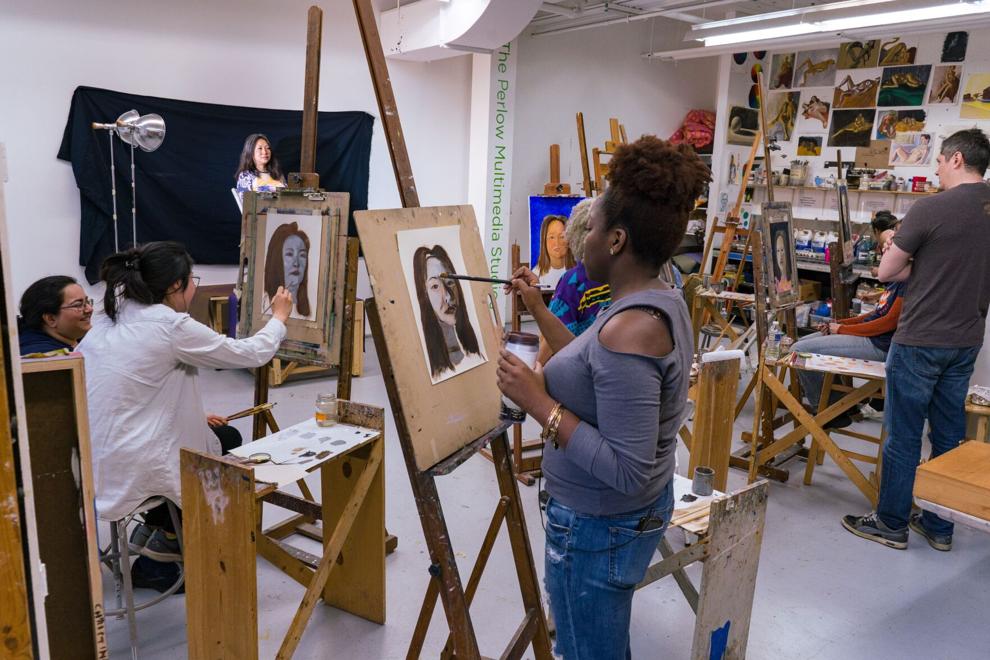 HPAC's resources have grown significantly during Lorenz's time there — when she began in 2002, for instance, there were four full-time staffers. At the time she took over as executive director, that had increased to nine, and the number is now around 20. She was careful to emphasize, when discussing this expansion, that it came in response to the needs of the center's patrons, students and larger community. 
"We've tried to be really thoughtful, listen to our community and define a vision that we felt like Hyde Park Art Center can and should sell," she said, "and then work backward to have the capacity and infrastructure and support that we need to make that happen." 
Take the recent capital campaign, "Art Makes," which ran from 2018 to this past February and raised $17.2 million in total, exceeding an initial $16 million target. 
That allowed HPAC to establish its first endowment, but it also helped the center create a new tuition model that started this spring, with those who sign up for art classes in the Oakman Clinton School & Studios now able to pay what they can rather than a pre-set price. As Lorenz told the Herald last November, that should hopefully lead to a greater number of teens and adults enrolling. 
"That feels in many ways emblematic of what we've been working on and wanting to bring to fruition for a long time," she said. "We have the vision of a place where working artists, neighbors, avocational folks trying things for the first time, regardless of economic resources, can come together to be creative and make art." 
When the Herald spoke with Malika Jackson about her new HPAC show in February, the South Shore artist, who became involved with the center by taking classes there, also praised the fecund mix of experience and ages.
"The Hyde Park Art Center is just so special," she said. "It's a place so you can get educated, you can get fed spiritually, creatively."
Lorenz said she found herself drawn to HPAC when she started working there in part for those reasons. "I don't know if I really could have named this at the time, but what really attracted me to it was just the real authentic diversity of people involved with all different kinds of careers," she said. 
"Certainly the neighborhood component, and people coming there for classes and using it as their community art center, but also artists from across the city who were being quite experimental. That mix of community arts center and avant-garde arts institution was there from the beginning." 
The cutting-edge sensibility dates back to 1939, when HPAC opened as the Fifth Ward Art Guild, with ties to the bohemian arts colony on 57th Street, and continued with the curatorial work of Don Baum, who popularized the work of the Chicago Imagists in the 1960s. In recent years, the center has helped kick-start the careers of South Side art world stars like Amanda Williams and Theaster Gates. 
Through it all, the institution endured a transient existence, moving frequently. The current space, its first free-standing facility, has allowed for more experiments with shows in the HPAC tradition. In 2014, for example, it was home to John Preus' "The Beast," a large sculpture in the shape of a dead bull. 
"It was such a gem," said Lorenz. "And the belly of 'The Beast,' opened onto the street with the garage doors open, and it became a public plaza. It was a gathering space for community members who would take it over for poetry readings, open mics, potlucks, you name it." 
High school students in particular liked to hang out there, Lorenz said. So when HPAC redesigned part of its second floor, it dedicated a space for teenagers. "They had kind of adopted 'The Beast,' and it really made the art center a place where high school students felt kind of welcome and like it was their own. So it shaped our future plans." 
For the time being, Lorenz isn't sure what's next, and plans to take a little time to investigate her options. "I'm excited to pick my head up and explore what my next challenge will be. It's kind of a luxury to have a little space to do that."
At HPAC, Jen Tremblay Chambers will serve as executive director; the center plans to have a new leader by this fall, with Koya Partners leading the job search. 
"I think it's a really, really exciting job and I'm excited to see how the team and the next leader can really run with it. Because I think there's so much good, and so much to build from," said Lorenz. "I also just want to say thank you to, really, the whole community and to everybody who's had a hand in the Hyde Park Art Center. I'm incredibly grateful."